Start Your Journey to Financial Success
Find out if you're eligible
Despite popular belief, becoming a member of a credit union is a lot easier than you might think. Click the "Eligibility" button to s
ee all the ways you can be eligible.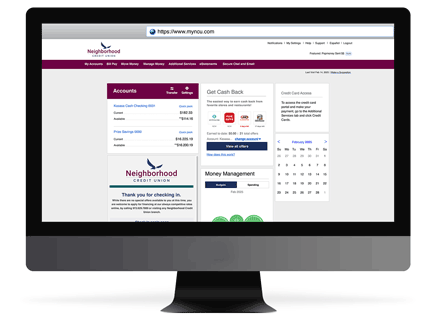 All Neighborhood Credit Union accounts feature:


Surcharge-Free ATMs
The Allpoint ATM Network allows our members the ability to withdraw cash at over 50,000 ATMs nationwide without charging an ATM fee.


Shared Branching
Easily access your accounts with over 6,100 nationwide Co-Op locations from which to do deposits and withdrawals in the lobby. 


Courtesy Pay
Protect your checking account with overdraft protection! Opt-in for the Courtesy Pay privilege for ATM and debit transactions.




Why Join a Credit Union
We are a not-for-profit owned and governed by the members.
Not only are our members a part of our community, they are stakeholders of the credit union and are key players to how we operate.
Credit Unions offer better rates than the big banks.
Credit Unions are different because our goal is not to make a profit from our customers. We are in the business of helping people achieve their short and long-term financial goals for their families as well as help them live a life of financial freedom.
Earnings are returned to you, the members, in the form of great rates and lower fees.
We're not like banks where the profits go straight into the pockets of shareholders. Our earnings go straight back to you in the form of better rates, dividends, and lower fees.
Be a part of a community where you're not just an account number.
Through unique products and community investment, including college scholarships and financial education, Neighborhood Credit Union helps its North Texas neighbors improve their financial health and well-being.
Who We Are
Formerly known as Dallas Postal Credit Union, Neighborhood Credit Union opened its doors to its first members in April 1930, just months after the U.S. stock market crashed. During the Great Depression, when Americans' trust in financial institutions were at their lowest, Dallas Postal Credit Union won that trust and loyalty of its charter members. In 2001, the credit union officially changed its name to Neighborhood Credit Union, a name that more accurately reflects the diverse base of members from all over the Dallas area.
Neighborhood Credit Union now serves over 56,000 members and their assets that now top $715 million. Neighborhood CU's ongoing effort to offer members convenient services in their communities and mobile access wherever they go has made them a top-rated credit union in the Dallas-Fort Worth area.
1APY = Annual Percentage Yield. If qualifications are met each Qualification Cycle: 2.50% Annual Percentage Yield up to $50,000 account balance if qualifications are met, 0.20% interest rate resulting in 2.50 – 0.97% Annual Percentage Yield on balances over $50,000 if qualifications are met. All balances earn 0.01% Annual Percentage Yield if qualifications are not met. Transfers between accounts do not count as qualifying transactions. Fees may reduce earnings. Limit one account per household. 
2Domestic ATM withdrawal fees incurred during Qualification Cycle in which qualifications were met will be reimbursed and credited to account on the last day of Monthly Statement Cycle.
3Restrictions apply. Choice™ Checking begins with a $10.50 base service charge monthly fee that can be reduced or eliminated. The fee is reduced by $1.00 each Qualification Cycle for receiving electronic statements. The fee is reduced by $0.20 each time you use your debit card to make a signature-based purchase during the Qualification Cycle (purchase must be $5 or more; ATM and PIN based transactions are excluded). See the Rates & Fees page here.
4APY = Annual Percentage Yield. Rates are subject to change at any time. Minimum $10,000 deposit required to open account. Minimum balance of $10,000 required to earn 2.00% APY, balances under $10,000 earn 0.00% APY. Three (3) withdrawals allowed per month, each withdrawal after will incur a fee. Please see the Rates & Fees page for details.
†APY = Annual Percentage Yield.
‡APR = Annual Percentage Rate. 3.99% Introductory APR for 6 months from issuance of the card. After the introductory period, APR will be adjusted based on creditworthiness. Rates are variable and subject to change. APR will be calculated based on the Wall Street Journal Prime Rate and may go up to a maximum of 18.00% Introductory APR only applicable to new credit card applications. View the Guide to Benefits. 
View the Truth-in-Savings Disclosures.
LivePerson Chat
By clicking the button below, you will be launching the chat platform to speak with one of our customer service associates.