The CD that earns you 4.65% APY and allows one opportunity during the term to match your rate.*
Why Invest with Neighborhood Credit Union

Better Rates than Banks

No Market Risk

Short-Term Timeline
Guaranteed Returns
Inflate My Rate CD
4.65% APY*
A short-term certificate of deposit that allows one opportunity during the term to request your rate be matched to the Standard 18-month CD rate.*
Already a member? Open Your CD Here.
Fixed Interest Rate: 4.55%
Minimum Opening Deposit: $2,500
Term: 25 Months
Rate Match: One rate match to our Standard 18-Month CD rate allowed during 25-month term. How do I request my rate match?
Good to Know: No additional deposits allowed. After 25-months, this CD converts and renews as a Standard 18-Month CD.
---
*Rates effective August 18, 2023. Inflate My Rate CD: APY = Annual Percentage Yield. Must be 18 years of age or older to open Certificate of Deposit. Rates subject to change. Interest is compounded daily. $2,500 minimum deposit to open. Only one rate increase allowed during 25 month term. Rate increase is not automatic and is dependent on member request by secure communication or verifiable documents. Rate increase will have an effective date that begins on date of confirmed request and will be in effect from that date till term end. Rate increased interest rate is dependent on Neighborhood CU's 18 month CD. If our 18 month CD rate increases during your Inflate My Rate CD's 25 month term, request a rate increase and we'll increase your Inflate My Rate CD's interest rate to match the 18 month CD rate. The new rate is locked in until end of the term. At the end of the 25 month term, Inflate My Rate CD converts and renews as a standard Neighborhood CU 18 month CD. Cannot be combined with any other rate offers or rate increase promotions. Not offered on trusts, business accounts or Individual Retirement Accounts (IRAs). An interest penalty is required for early withdrawal. Fees may reduce earnings. Federally insured by NCUA.​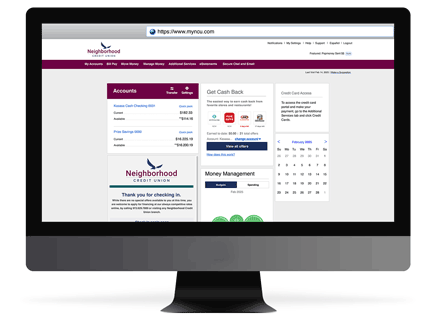 Already a member and want to open a CD online?
If you are already a member of Neighborhood CU and you would like to open your CD online, please log into your Online Banking account and look under the Additional Services tab.
 Ready to join the Neighborhood?
Why Choose an Inflate My Rate CD

Better Rates Than Banks

Enjoy getting a better interest rate and earning higher returns than you would at other big banks.
Short-Term Timeline

Earn a higher rate on this 25-month CD and avoid tying up your money longer.
Low Risk Way to Grow 
A fixed interest rate means the rate stays the same until maturity.
Want to compare CDs side by side?
Click the "Compare CDs" button to explore in-depth.

4.50% APY* 17-Month CD
An online-only CD offer that allows additional deposits.
Frequently Asked Questions
Who We Are
Formerly known as Dallas Postal Credit Union, Neighborhood Credit Union opened its doors to its first members in April 1930, just months after the U.S. stock market crashed. During the Great Depression, when Americans' trust in financial institutions were at their lowest, Dallas Postal Credit Union won that trust and loyalty of its charter members. In 2001, we officially changed our name to Neighborhood Credit Union, a name that more accurately reflects the diverse base of members from all over the Dallas area.
Neighborhood Credit Union now serves the entire state of Texas with over 61,000 members and assets that top $1 billion. Our ongoing effort to offer members convenient services in their communities and mobile access wherever they go has made us a top-rated credit union in the Dallas-Fort Worth area.