Earn an impressive 4.50% APY* for 17 months with the Online Savings CD!
Why Invest with Neighborhood Credit Union

Better Rates than Banks

No Market Risk

Short Term Timeline
Guaranteed Returns
Online Savings CD
4.50% APY*
An exclusive rate only available online with additional deposits allowed.
Minimum Opening Deposit: $1,500
Term: 17 Months
Good to Know: Must be 18 years or older to open.
---
*APY = Annual Percentage Yield. Online Savings CD: Fixed interest rate at 4.40%. Rate subject to change. Minimum opening deposit is $1,500. Additional $25 minimum deposits allowed. An interest penalty is required for early withdrawal. Online certificate products must be opened online and are only eligible to those 18 years of age or older.​ Fees may reduce earnings. Federally Insured by NCUA. Please see the CD Truth-in-Savings Disclosures for additional information.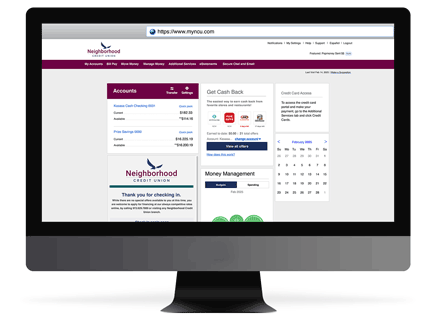 Already a member and want to open a CD online?
If you are already a member of Neighborhood CU and you would like to open your CD online, please log into your Online Banking account and look under the Additional Services tab.
 Ready to join the Neighborhood?
Why Choose an Online Savings CD

Better Rates Than Banks

Enjoy getting a better interest rate and earning higher returns than you would at other big banks.
Flexible Timelines

Plan for life's events near and far by picking a term ranging from 3 months to 5 years.
Low Risk Way to Grow 
A fixed interest rate means the rate stays the same until maturity.
Want to compare CDs side by side?
Click the "Compare CDs" button to explore in-depth.

60-Month Traditional CD
Don't let the stock market numbers keep you up at night. A fixed interest rate means the rate stays the same until maturity.
Frequently Asked Questions