Neighborhood Credit Union Opens in Prosper, TX
Published October 30, 2020 
Donning masks and striving to keep each other safe and healthy, about three dozen leaders from the Town of Prosper, the Prosper Chamber of Commerce and Neighborhood Credit Union braved chilly temperatures Thursday morning for the official ribbon cutting and grand opening of Neighborhood Credit Union's new Prosper location at 2201 E. University Drive near Coit Road. Others participated in the celebration virtually through Facebook Live.

"Neighborhood Credit Union is excited to be able to serve our neighbors in Prosper," said Neighborhood Credit Union Vice President of Retail Branches Carrie Pescatello. "It seems like a lifetime ago that we were together for the groundbreaking back in December.
"Though the world has changed dramatically since that day, one thing hasn't changed: Neighborhood Credit Union's commitment to build financial relationships and serve people from all walks of life right here in your neighborhood," said Pescatello.
Kami Rivera, who serves as branch manager at the new Prosper location, added, "We have already felt so welcomed by the families, businesses and leaders of this community, and we are eager to get to know more of you in the months and years ahead!"
Pescatello and Rivera welcomed Prosper Town Councilman Marcus Ray, Town Manager Harlan Jefferson, Prosper Chamber of Commerce Chairwoman Iris Meneley, Vice Chairman Kenneth Duggar and Board Secretary Lacie Lee, along with the Chamber's "welcome entourage," to join them to cut the ribbon in front of the new building. Duggar also presented Neighborhood Credit Union with an official proclamation from Prosper Mayor Ray Smith.
Designed by architect Jim Gahl and design group Level 5, the new location at 2201 E. University Drive in Prosper, at the intersection of Coit Road near Panda Express, makes it more convenient for current members and others who live, work or worship in and around Prosper to enjoy the benefits of Neighborhood Credit Union membership, including:
Prize Savings Accounts
that reward members for saving their money,
High Yield Savings
accounts with one of the highest interest rates in the region, free checking accounts, and consumer-friendly
Auto Loans,
along with a commitment to financial education and personal service.
Catch Up on More News
Explore News & Events for more updates on what's happening in your community and at the credit union.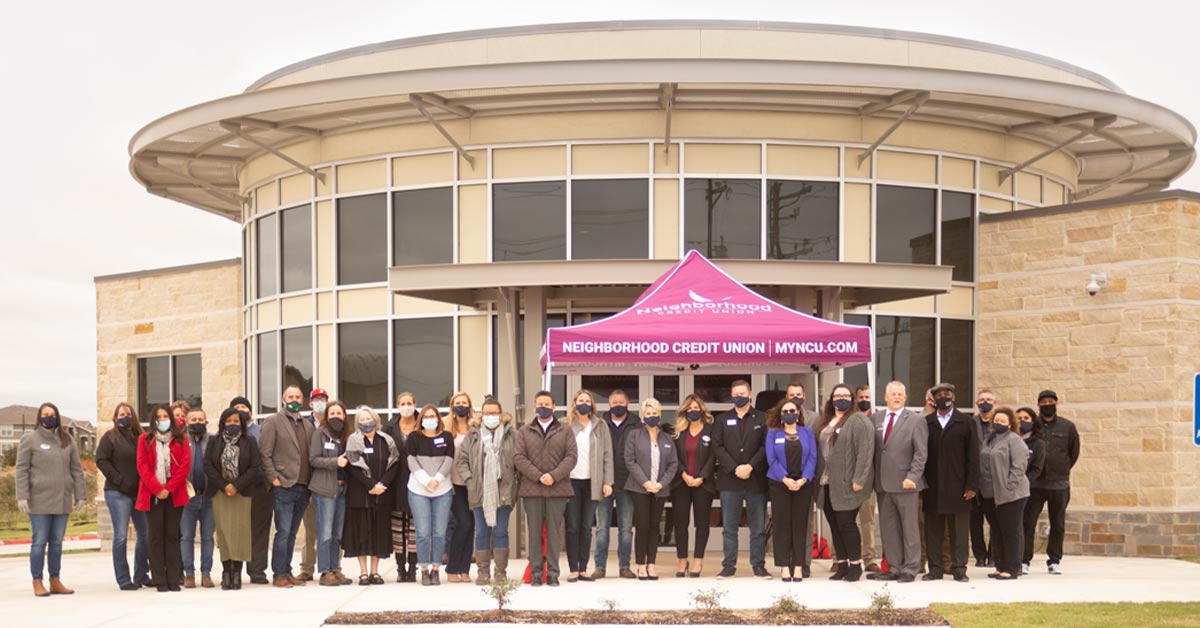 Prosper Chamber of Commerce Members and Neighborhood Credit Union Employees gathered to celebrate the grand opening of Neighborhood Credit Union in Prosper, TX. 
Who We Are 
As an active part of the community for 93 years, Neighborhood Credit Union is a not-for-profit financial organization serving the state of Texas with branch locations in Collin, Dallas, Denton, Ellis, and Tarrant counties. With assets topping $1 billion, Neighborhood Credit Union has a continuously growing membership of over 60,000. For more information, call (214) 748-9393 or visit our homepage.