Neighborhood Credit Union Presents Children's Health of North Texas with $60,000
Published February 7, 2020
DALLAS, Texas - Neighborhood Credit Union saw first hand what a small donation can do. 
On Thursday, February 7, the Dallas-Fort Worth credit union presented Children's HealthSM with a check for $60,000 thanks to three different programs the North Texas credit union offered in 2019. 

"I'm so proud of our members who have donated," says Neighborhood CU Marketing Manager, Rachel Pigman. "Every year I'm blown away at the generosity and support of those who walk into our branches." 
During October, Neighborhood CU sponsored and partnered with Children's Medical Center Foundation for the
BOO Yard Sign Challenge
. With a $20 donation, a member could reserve a BOO yard sign to place secretly in friends' or neighbors' yard through the Halloween season. 
In November and December, Neighborhood CU encouraged members who qualified to participate in their annual
Skip-A-Payment
program. Instead of their scheduled monthly payment, members could make a donation of $35 or more to Children's Health and skip their monthly loan payment. 
The new
Ugly Sweater
program was introduced in November 2019. For a donation of $5 or more, members could decorate a customized ugly sweater cut out and put it on display in the branch. This allowed for a fun and creative way to encourage giving back during the holiday seasons. 
About Children's Medical Center Foundation
Children's Medical Center Foundation serves as the fundraising arm for Children's Health, the leading pediatric health care system in North Texas. The Foundation partners with individual donors, corporations and organizations to help the comprehensive team of physicians, scientists and medical professionals at Children's Health fulfill its mission to make life better for children. 
Children's Medical Center Foundation raises, manages and distributes funds to support Children's Medical Center Dallas, as well as Children's Medical Center Plano, Our Children's House inpatient rehabilitation hospital, multiple specialty centers, Children's Health Pediatric Group primary care practices, rehabilitation facilities, home health, physician services and the Children's Medical Center Research Institute at UT Southwestern. For more information, please visit
https://give.childrens.com
.
About Neighborhood Credit Union
Neighborhood Credit Union is a not-for-profit financial organization serving Dallas, Denton, and Ellis counties, as well as the City of Arlington for 90 years. With branches in Dallas, Richardson, Arlington, Mesquite, Duncanville, Waxahachie, Lancaster, Grand Prairie, Coppell, and Highland Village, and assets topping $720 million, Neighborhood Credit Union has a membership of 55,000 and continues to welcome new members daily. For more information, call (214) 748-9393 or visit our
website
.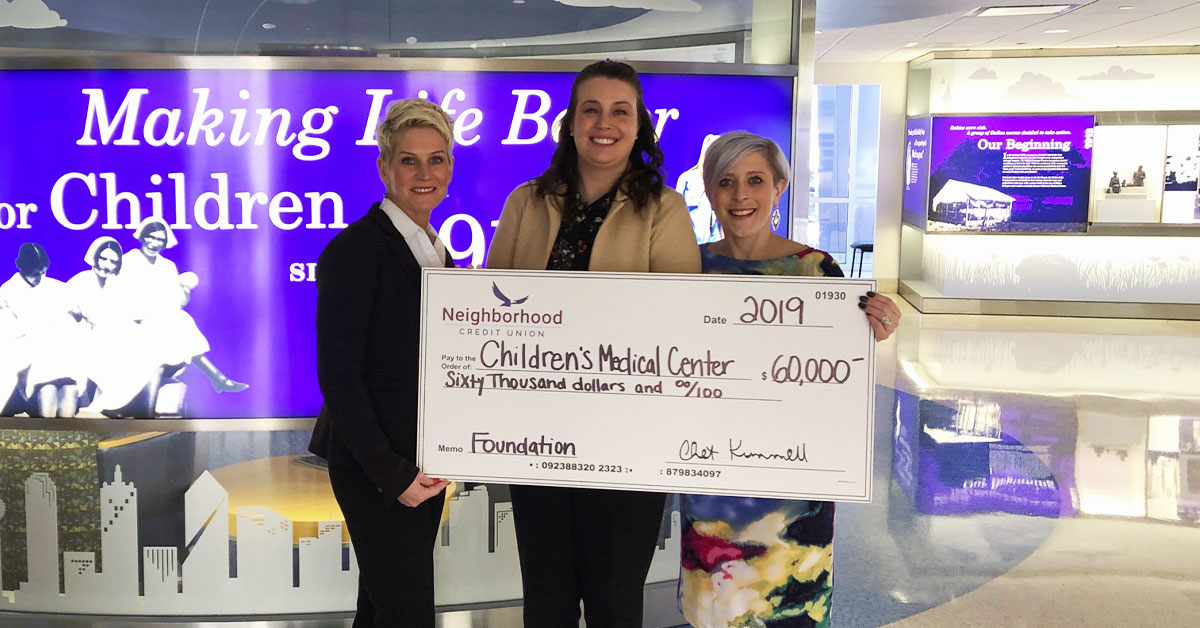 From left to right. Carrie Pescatello and Rachel Pigman with Neighborhood Credit Union and Audra Cozart with Children's Medical Center Foundation. 
Catch Up on More News
Explore News & Events for more updates on what's happening in your community and at the credit union.