Neighborhood Credit Union Celebrates Return to Oak Cliff
Published January 14, 2021
Neighborhood Credit Union returned to the site of its longtime Oak Cliff headquarters Tuesday morning for a groundbreaking ceremony to kick off construction on its new building at 650 Fort Worth Avenue at Yorktown Street.
"We're excited to see all the good things happening in our Oak Cliff neighborhood," said Francis Santana, senior vice president of retail operations at Neighborhood Credit Union. "We can't wait to be back to celebrate the grand opening of our beautiful new location in just a few short months!
"Although we may be celebrating the construction of this new location, Neighborhood Credit Union's commitment to the Oak Cliff community is anything but new," said Santana, noting that Neighborhood Credit Union was headquartered in nearly the same spot for decades. "It's so nice to be back here and to look down the street and see the postal trucks coming in and out of the main Post Office, reminding us of our roots as the Dallas Postal Credit Union." 
Neighborhood Credit Union's Chief Growth Officer Carolyn Jordan echoed Santana's enthusiasm. "This is where I began my career with Neighborhood Credit Union, and it's like a homecoming. Even though our credit union has grown significantly since our founding nearly 92 years ago, we remain firmly rooted in our core mission: to be good neighbors and humbly serve our members as they work to improve their financial life – wherever they are in life." 
Kiyundra Jones, president of the Oak Cliff Chamber of Commerce, recalled her own history of working with Neighborhood Credit Union over the years on a number of initiatives to benefit the community. "Congratulations to Neighborhood Credit Union on this exciting new construction project," said Jones. "And welcome home!"
Other local leaders who took part in the groundbreaking ceremony included: Sherron Richard, who participated on behalf of Congressman Marc Veasey; Kelvin Bass, representing State Senator Royce West; and Nedra Warren, Executive Director of the Inland Port Area Chamber of Commerce.
Beginning in summer 2022, the new Oak Cliff location will make it even more convenient for current members and others who live, learn, work or worship in the area to enjoy the benefits of Neighborhood Credit Union membership, including
Prize Savings Accounts
that reward members for saving their money, rewarding
High Yield Savings
accounts with one of the highest rates in the region, free checking accounts and some of the best
Auto Loans
, along with a commitment to financial education and personal service.
The oldest credit union in Dallas (chartered April 18, 1930), Neighborhood Credit Union is a not-for-profit financial organization serving anyone who lives, works or worships in the State of Texas. With nearly 60,000 members, $1 billion in assets and locations across North Texas, Neighborhood Credit Union has been a loyal and trusted partner for over 91 years and continues to welcome new members daily. For more information, call (214) 748-9393 or visit our homepage.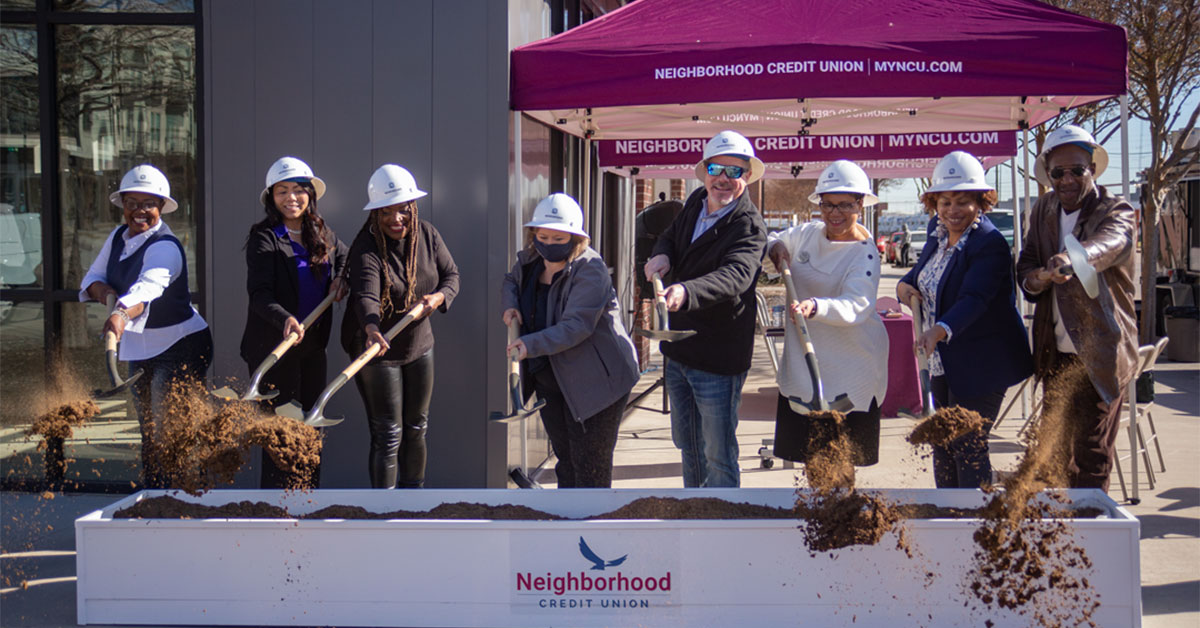 (left to right) Oak Cliff Chamber of Commerce President Kiyundra Jones, Neighborhood Credit Union (NCU) Senior Vice President of Retail Operations Francis Santana, and Inland Port Area Chamber of Commerce Executive Director Nelda Warren join NCU Vice President of Retail Branch Operations Dana Jones and Chief Financial Officer James Frankeberger, as well as Congressman Marc Veasey's staff member Sherron Richard and State Senator Royce West's staff member Kelvin Bass for the official groundbreaking ceremony of Neighborhood Credit Union's Oak Cliff location, which will open in the summer of 2022 at the intersection of Fort Worth Avenue and Yorktown Street.
Catch Up on More News
Explore News & Events for more updates on what's happening in your community and at the credit union.
Who We Are 
As an active part of the community for 92 years, Neighborhood Credit Union is a not-for-profit financial organization serving the state of Texas with branch locations in Collin, Dallas, Denton, Ellis, and Tarrant counties. With assets topping $1 billion, Neighborhood Credit Union has a continuously growing membership of over 60,000. For more information, call (214) 748-9393 or visit our homepage.