Mobile Wallet at Neighborhood Credit Union
Published April 7, 2020
Beginning April 7, 2020, Neighborhood Credit Union members will have the ability to add their Neighborhood CU issued cards in their mobile wallet, such as Apple Pay and Samsung Pay. Faster, safer and more convenient, welcoming mobile wallet is an exciting step for Neighborhood Credit Union. In this article we discuss the safety of mobile wallet and Mobile Wallet, which ones are compatible with our credit union, how to set up your cards, and where you can use mobile wallet. 
How Safe is Mobile Wallet?  
More than 55 percent of Americans are wary of using mobile wallet, and companies want you to know it is indeed very secure to use applications such as Apple Pay, Google Pay and countless more.   

When setting up your mobile wallet, you can add two-factor authentication. This will require a Face ID, thumbprint, passcode, or double click before the transaction is allowed to take place. For phones who have a passcode to unlock, that's even better. If someone were to try to access your mobile wallet by taking your phone – aside from the two-factor authentication – the thief would also have to get around your phone's password. 
Your payment information is also never saved to your phone itself because it's linked from a digital wallet to your actual account. While mobile wallet is completely secure, you should continue to regularly check your statements and account for charges you may not recognize. If you suspect a fraudulent charge, 
lock your debit card 
immediately. 

Using you mobile wallet will get you around having to physically swipe your card, deducing your risk of card readers. With a simple tap, your purchase has been made. 
What is Compatible with Mobile Wallet?  
Neighborhood Credit Union is taking on Multiple-Device Support, meaning the credit union has the ability to take on mobile wallet from several different smartphone and smartwatch brands and platforms. So no matter what device you choose to use, we most likely have a mobile wallet option for you: 
Apple Pay 
Google Pay 
Samsung Pay 
Garmin Pay 
Fitbit Pay 
Visa Checkout 
Microsoft Wallet 
Masterpass 
How to Add Apple Pay:  
1. Go to Wallet on your iPhone and tap 
2 Follow the steps to add a new card. Watch the
demo
 to see how it works. If you're asked to add the card that you
use with your Apple ID
, cards on other devices, or cards that you've recently removed, choose them, then enter the card security codes. You might be required to download an app from your bank or card issuer to add a card to Wallet. 

3. Tap Next. Your bank or card issuer will verify your information and decide if you can use your card with Apple Pay. If your bank or issuer needs more information to verify your card, they'll ask you for it. When you have the information, go back to Wallet and tap your card.
4. After your bank or issuer verifies your card, tap Next. Then start using
Apple Pay
. 
How to Add Google Pay 
For Android: 
1. Open the Google Pay app.  
If you have multiple accounts in Google Pay: At the top left, tap Menu .Tap the Down arrow  choose an account. 
2. At the bottom, tap Payment. 
3. At the bottom, tap Add 
   Credit or debit card. 

4. Use the camera to capture your card info or enter it yourself. 

6. Find and enter the verification code. 
For iPhone: 
1. Open the Google Pay app. 
If you have multiple accounts in Google Pay: At the top left, tap Menu .
Tap the Down arrowchoose an account. 
2. At the bottom, tap Payment methods.
3.At the bottom, tap Add 
   Add credit or debit card. 
You can add a credit card to Google Pay, but you won't be able to use it to send money. 
4. Enter your card info. 

6. Find and enter the verification code. 
1. To get started, navigate to and open Samsung Pay on your phone.  
2. Tap Menu in the top left corner, and then tap Cards. 
3. Next, tap Add card (blue +card icon), and then tap Add credit/debit card.  
4. Follow the on-screen instructions to register your card.  
5. When you add a card, you must agree to the card's terms and conditions. If you have any questions about the terms, contact the card issuer. 
Where can you use Mobile Wallet? 
Once you've added your card to your mobile wallet, the world is your oyster. Use mobile wallet at most major grocery stores, convenient stores, nail and hair salons, movie theaters, taxi and ride share services, vending machines – the list goes on. Look for merchants that have the contactless symbol or for your chosen devices' symbol if you prefer to use mobile wallet there. Once confirmed that you can use your mobile wallet, all you need to do is hover or tap your phone over the reader. You can also utilize your mobile wallet by securely sending and requesting payments within text messages. Pay your roommates, spouse, partners, parents, and friends in seconds.  
Conclusion 
Safe and convenient typically are not words that always go together, but with mobile wallet, it's true. No wonder more people are turning to this secure payment method! Using services like Apple Pay are accepted at most major merchants, offered on a multitude of devices, and allows you to pay with just a tap of your device. It doesn't get much easier than mobile wallet.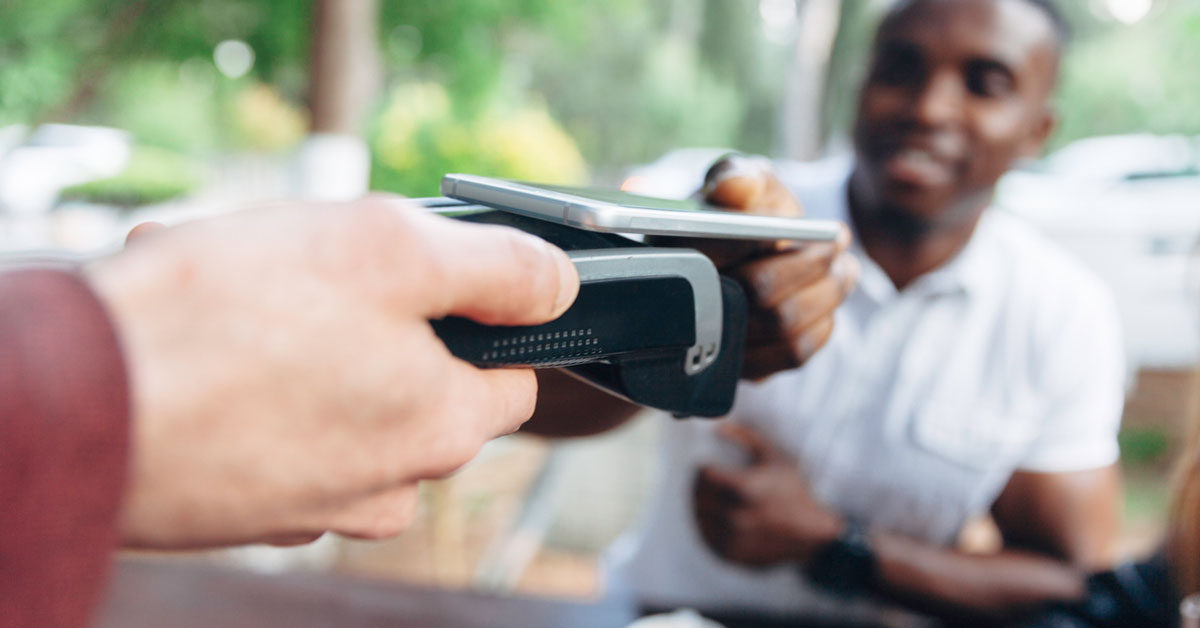 Skyler has been a Marketing Content Specialist at Neighborhood Credit Union since 2019. 
Who We Are 
As an active part of the community for 93 years, Neighborhood Credit Union is a not-for-profit financial organization serving the state of Texas with branch locations in Collin, Dallas, Denton, Ellis, and Tarrant counties. With assets topping $1 billion, Neighborhood Credit Union has a continuously growing membership of over 60,000. For more information, call (214) 748-9393 or visit our homepage.