Use your Visa debit card everywhere worldwide that Visa cards are accepted with no annual fee.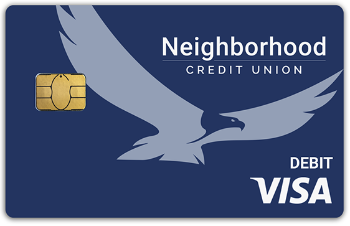 Activate Your Debit Card
Call toll-free at 1.866.985.2273 to activate your new Visa debit card. If after hours, call 1.866.537.1314.




Lock Your Debit Card with MyNCU Card Lock
With MyNCU Card Lock, you can quickly and easily turn off and turn on your debit card, report it lost or stolen, or cancel your card. Visit the MyNCU Card Lock Guide to learn more.  
read guide >>
Debit Card FAQs
Turn your debit card off or on, report lost or stolen, or cancel your debit card quickly when it matters most through MyNCU Card Lock on your mobile app or online banking.
Will You Be Traveling Soon?
Notify us of your travel plans. If you plan to use your Neighborhood Credit Union credit or debit cards while traveling, for your security and protection let us know your destination and date range of travel.
On desktop, login to Online Banking and send a secure message under the Additional Services tab;

or, call 214.748.9393 and allow Nick, your automated virtual assistant, help process a travel notice within minutes.
Instant Debit Cards
If you are needing a replacement debit card immediately, our Arlington and North Dallas branches offer instant issued debit cards Monday through Friday from 9am until 5pm.
---
Annual Notice Regarding Non-Visa Pinless Debit Transactions
You may use your checking account Visa Debit Card to initiate both Visa debit transactions and non-Visa debit transactions without using a personal identification number (PIN) to authenticate the transactions. To initiate a Visa debit transaction, you may sign a receipt, provide a card number or swipe your card through a point-of-sale (POS) terminal and choose to route the transaction over a Visa network. To initiate a non-Visa debit transaction, you may enter a PIN at a point-of sale terminal or, for certain bill payment transactions, provide the account number for an e-commerce or mail/telephone order transaction after clearly indicating a preference to route it as a non-Visa transaction. We have enabled non-Visa debit transaction processing on the CU24, Accel, Pulse and Plus network(s). The rights and protections applicable only to Visa debit transactions, including additional consumer liability limits and streamlined error resolution procedures, as described in your Electronic Fund Transfers Agreement and Disclosure will not apply to transactions processed through non-Visa networks. Please contact NCU with any questions you may have regarding this notice.