Radiothon Raises More Than $1 Million for Children's Medical Center
Dallas, TX (PRWEB) February 11, 2014
Neighborhood Credit Union staff and members raise over $20,100 in donations for Children's Medical Center with their annual Skip-A-Pay promotion.
DALLAS, Texas– Children's Medical Center announced its 2013 Christmas is for Children radiothon raised more than $1 million for the nation's sixth-largest, not-for-profit pediatric hospital, of which Neighborhood Credit Union staff and members helped collaboratively raise over $20,100 of the donations with their annual Skip-A-Pay promotion and by volunteering at the annual event.
The annual four-day event is supported by CBS Radio and broadcast on 98.7 KLUV and La GRANDE 107.5 FM from the Seacrest Studio located in the hospital. Approximately 20 Children's patients and families participated this year via pre-recorded and live interviews during the four-day event held December 12 – 15, 2013. One hundred percent of the funds raised through Christmas is for Children's remain at Children's to support patient care and hospital programs and services. For the third consecutive year, Neighborhood Credit Union staff volunteered to help answer phones and collect additional donations during the event.
On-air talent from both radio stations who participated as emcees in the weekend-long radiothon included Jody Dean, Edgar "Shoboy" Sotelo, Rebekah Black, David Rancken, Jenny Q, John Summers, Carlos, Horacio, and Ana Cruz.
"Our culture is about giving back to the communities that we serve- what the holiday season and the credit union difference is all about," said Neighborhood Credit Union President and CEO Chet Kimmell. "We're very supportive of the mission driving Children's Medical Center and value our continued partnership with them," Kimmell said while adding that the credit union has helped accumulatively raise over $100,000 in the past 10 years for Children's. 
Become a Member
Do you want access to exclusive rewards and outstanding products? Learn what it really means to be a member and why it matters.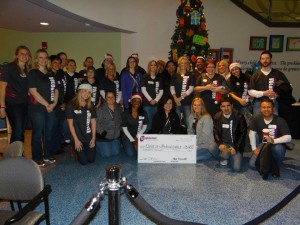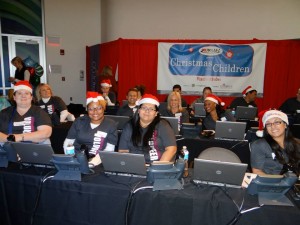 About Neighborhood Credit Union: The oldest credit union in Dallas (chartered April 18, 1930), Neighborhood Credit Union is a not-for-profit financial organization serving Dallas and Ellis counties, as well as the city of Arlington. With branches in Oak Cliff, North Dallas, Richardson, Arlington, Mesquite, Duncanville, Waxahachie, Lancaster, Grand Prairie and Coppell and assets topping $325 million, Neighborhood Credit Union has a membership of 30,000 and continues to welcome new members daily. 
About Children's Medical Center: Founded in 1913, the not-for-profit Children's Medical Center is the fifth-largest pediatric health care provider in the country, receiving nearly 700,000 patient visits annually with 595 licensed beds at its two full-service campuses in Dallas and Plano, and multiple specialty clinics and 16 primary care MyChildren's locations. Children's was the state's first pediatric hospital to achieve Level 1 Trauma status and is the primary pediatric facility affiliated with UT Southwestern Medical Center. This year, Children's is celebrating 100 years of making life better for children. For more information, please visit childrens.com.