Product Name Changes at Neighborhood Credit Union
Published October 21, 2020 

At Neighborhood Credit Union, we look for ways to keep our products member-friendly. With that in mind, the following products will have new names effective November 1. We want to assure our members who currently have any of these products that no action is required.
While product names may change, we will continue to offer the same great benefits:  
Regular Savings will become Membership Savings. Earn 0.10% APY** on a balance of $100 or more, and no maintenance fees. 
Other Savings will become Special Savings. Earn 0.10% APY** on a balance of $100 or more, and no maintenance fees.  
Looney Tunes will become Kid's Savings. Earn 0.10% APY** on a balance of $100 or more. For kids ages 0 to 12. 
Signature Loan will become Personal Loan. Starting with rates as low as 7.49%APR***.  
Choice checking will become Priority Checking. Earn Get Cash Back Rewards, no minimum balance, and easily reduce or eliminate your monthly fee.* 
Personalized Account Names in Online Banking 
This update may cause personalized account names to revert to their original product names and we apologize in advance for any inconvenience this may cause. We recommend taking a screenshot or writing down any personalized account names and their balances by October 31, 2020.  
How to Personalize Your Account Name  
1. Login to Online Banking at the top right-hand side of your browser window, click on My Settings.

2. On the new page, scroll down or look at the bottom for the Other Settings section and click on the Rename & Hide Your Accounts link.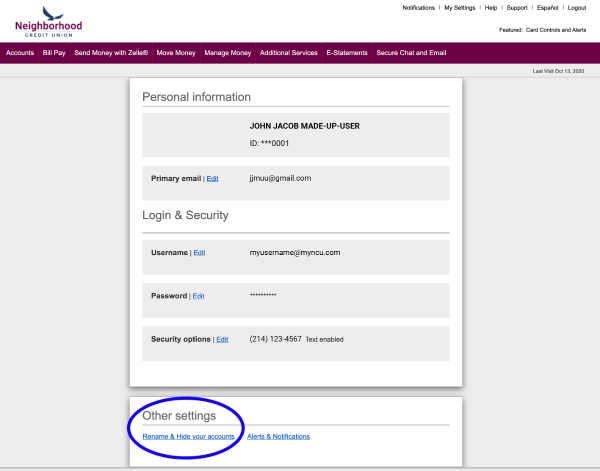 3. This page will show the account names and provide text boxes to input your personalized names for the accounts. You can also choose whether to hide (check/uncheck the checkbox) the account on Online Banking or can grab and drag the accounts and reorder them.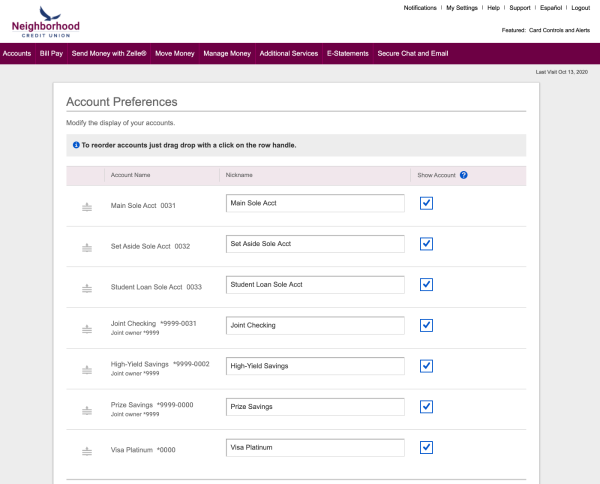 Automatic Transfers May be Affected 
Automatic Transfers may also be affected by the name changes. Before October 31, 2020 we recommend noting your automatic transfer amounts and frequencies. To re-establish your automated transfers after the system update, visit our
 Simple-Saver setup guide
.  
For More Information 
If you would like more information about the product name change or questions about Automatic Transfers, please contact us via our website at myncu.com. We aim to serve you better with our updated account names and we thank you for being a member! 
Catch Up on More News
Explore News & Events for more updates on what's happening in your community and at the credit union.