Neighborhood Credit Union Donates 100,000 Meals to North Texans
Published January 21, 2021
On January 20, 2021 with the help of over 100 members, Neighborhood Credit Union donated $33,365 to the North Texas Food Bank.  
Donations made to the North Texas Food Bank will help those who are experiencing hardship due to the ongoing COVID-19 pandemic. With the end of three major government relief programs in December 2020, the North Texas Food Bank and other local food pantries are preparing to lose over 22 million pounds of food. That is why Neighborhood Credit Union made a pledge to match donations dollar for dollar, up to $25,000. Thanks to a December social media campaign and over 100 donors, the credit union was able to give $33,365, supplying over 100,000 meals to North Texas families who are food insecure. 
This was the second donation within a year that Neighborhood Credit Union has presented to the North Texas Food Bank. In the summer of 2020, the credit union donated over $37,505 after hosting a 3-month long campaign. In total, Neighborhood Credit Union and its members have now provided over 200,000 meals to those in need.   
"Thank you so much to Neighborhood Credit Union and all your members." said North Texas Food Bank's Chief External Affairs officer, Erica Yager. "Collectively, you've been able to provide over 200,000 meals for our hungry neighborhoods here in North Texas at a time where your support is needed more than ever." 
With an average of 1 in 6 North Texans experiencing food insecurity, donations are vitally important to the food bank industry. For every $1 donated the North Texas Food Bank can produce three nutritious meals for children, families, and seniors in need. To make a donation online, visit ntfb.org/donate. 
The North Texas Food Bank gladly accepts volunteers Thursday – Saturday. Volunteers can pick to work a morning shift or an afternoon shift. For more information, visit www.ntfb.org.    
About the North Texas Food Bank 
The North Texas Food Bank (NTFB) is a top-ranked nonprofit hunger-relief organization operating a state-of-the-art volunteer and distribution center in Plano, the Perot Family Campus. Last year, the Food Bank worked hard in partnership with member agencies from our Feeding Network to provide access to almost 77 million nutritious meals across a diverse 13-county service area — this means more than 200,000 meals per day for hungry children, seniors, and families. But the need for hunger relief in North Texas is complex and in order to meet the need, the NTFB is working to increase our food distribution efforts. Our goal is to provide access to 92 million nutritious meals annually by 2025.   
NTFB is a member of Feeding America, a national hunger-relief organization.   
About Neighborhood Credit Union 
The oldest credit union in Dallas (chartered April 18, 1930), Neighborhood Credit Union is a not-for-profit, member-owned, volunteer-directed financial cooperative that provides fiscally sound, economically creative banking solutions. With locations across North Texas, Neighborhood Credit Union has a membership of 56,500 and continues to welcome new members daily. For more information, call (214) 748-9393 or visit our home page.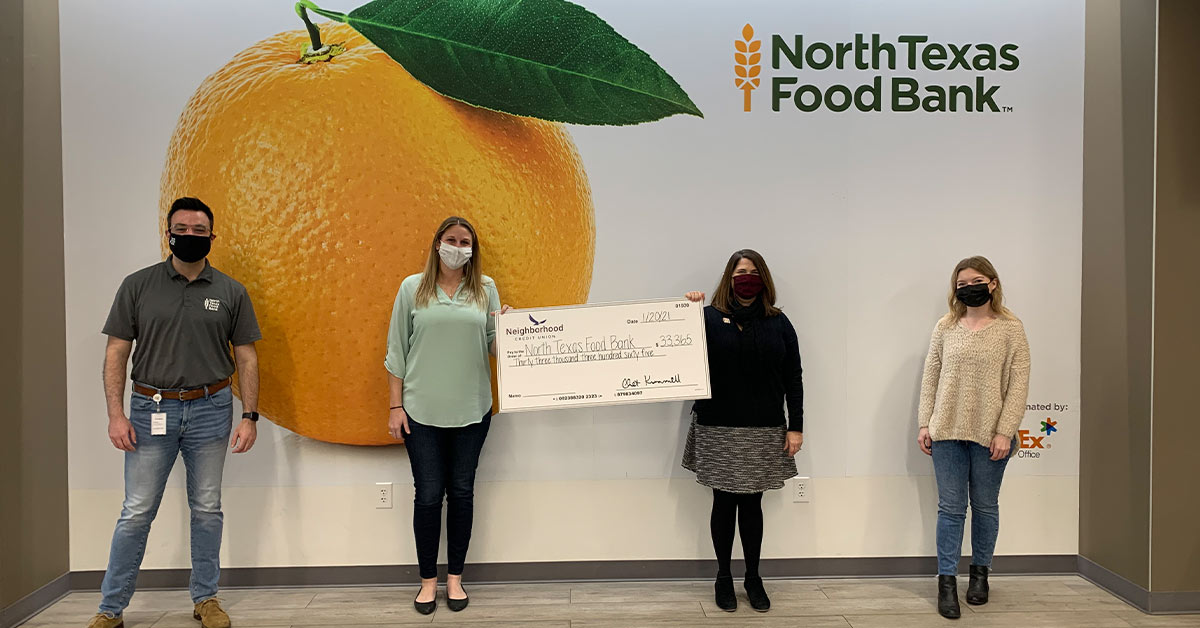 Catch Up on More News
Explore News & Events for more updates on what's happening in your community and at the credit union.