Lucky Neighborhood Credit Union Member Starts 2020 with a Big Surprise
DALLAS, Texas - The new year has started out to be extra happy for one Lake Highlands retiree, who was surprised at his home Friday morning with a $49,999 prize from Neighborhood Credit Union as a reward for his good savings habits.
Donald Kissinger was skeptical when he opened the door to find several Neighborhood Credit Union staff members on his porch with balloons and an oversized "check" made out to him. As the realization of his surprise began to sink in, he first fought to find words then to hold back tears, as he hugged each team member.
Kissinger's name was drawn on New Year's Day from all the credit union's Prize Savings Account holders. Since 2007, Neighborhood Credit Union has offered the Prize Savings Account as an innovative approach to help reverse the low savings rate across the nation. Neighborhood Credit Union created the Prize Savings Account as a fun way to encourage people to save money and provide prizes and rewards so people could have an immediate and tangible way to see how good savings habits can reap unexpected rewards.
Kissinger has been a member of Neighborhood Credit Union for decades, dating back to the 1940s when his father joined what was then the Dallas Postal Credit Union. He credits his parents for instilling in him the importance of saving money.
"My dad taught me to put away 10 percent of anything I made," said Kissinger. "I started saving at the age of 16."
Kissinger grew up in East Dallas and joined the Navy, serving two tours of duty in Vietnam. After returning to Dallas, he began working with the inventor of the Post-It Note and eventually retired from the 3M Corporation after 35 years. Six year ago, he moved into the Lake Highlands neighborhood to help care for his elderly mother.
Kissinger noted that this New Year's surprise was especially meaningful. "I had to bury a lot of people in 2019 and am glad that year is gone," said Kissinger. "This is a very good start to a new year."
Kissinger said he plans to keep most of the funds in his Prize Savings Account, although he may spend some of it on a trip to Europe.
"I was in Paris on 9/11 and have not been there since," he said. "I think it might be time to go back to Paris after all these years."
How the Prize Savings Account works: Neighborhood Credit Union members receive one drawing entry for every $25 monthly average balance in their Prize Savings Accounts. The greater the savings, the more chances a member has of winning. Members are eligible for weekly drawings, culminating with the annual grand prize, drawn each January 1 based on the average monthly balance in the savings account at close of business December 31.
About Neighborhood Credit Union: The oldest credit union in Dallas (chartered April 18, 1930), Neighborhood Credit Union is a not-for-profit financial organization serving Collin, Dallas, Denton and Ellis counties, as well as the city of Arlington. With
locations
 across North Texas and assets of $800 million, Neighborhood Credit Union has a membership of 56,000 and continues to welcome new members daily. For more information, call (214) 748-9393 or visit 
www.myncu.com
.
Watch Donald's Video
Here.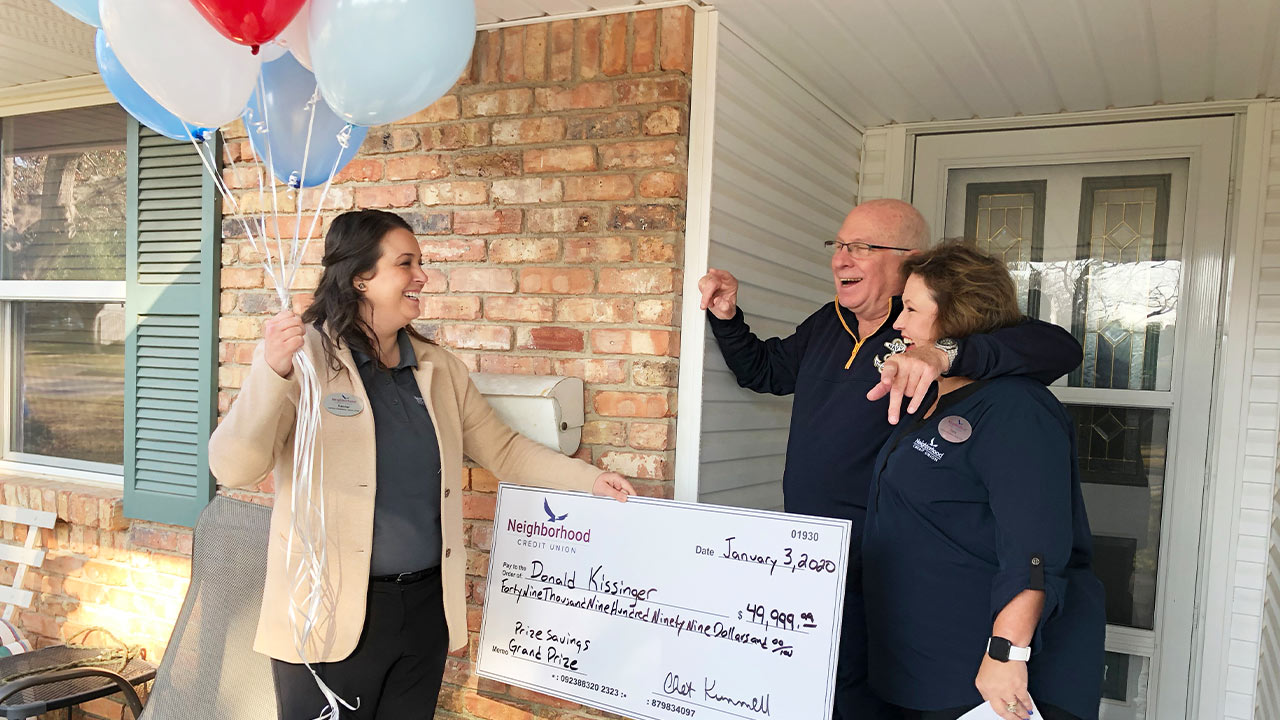 From left to right: Neighborhood Credit Union Marketing Manager; Rachel Pigman, PSA Grand Prize Winner; Donald Kissinger, and Vice President of Retail Branches; Dana Jones. 
Catch Up on More News
Explore News & Events for more updates on what's happening in your community and at the credit union.