Arlington Woman surprised by 10K Prize from Neighborhood Credit Union
GRAND PRAIRIE, Texas – Being a dedicated saver can bring unexpected rewards, one Arlington woman learned. 
Arriving to Neighborhood Credit Union's Grand Prairie branch, Tabitha Giddings knew she had won a prize but was not sure what it was.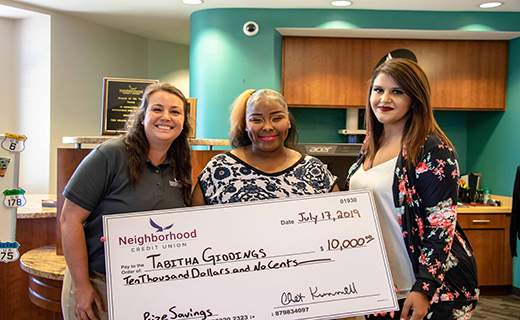 Giddings was overjoyed when Neighborhood Credit Union's leadership presented her with an oversized check for $10,000. The actual $10,000 prize was deposited directly into her Prize Savings Account at the credit union. 
"Oh my goodness," she said. "Thank you so much. I was maybe expecting $1,000 but not this." 
Giddings has been a consistent saver following the advice of her late cousin who told her that it's very important to always have extra money set aside as a safety net. 
"We appreciate Tabitha very much," said Rachel Pigman, marketing manager at Neighborhood Credit Union. "This is part of what we do in appreciation for her great savings habits." 
Dallas-based Neighborhood Credit Union established the Prize Savings Account more than 10 years ago to encourage people to save more money at a time when the personal savings rate had dropped to one of the lowest levels in U.S. history. 
"Any time there is a rainy day and something happens, you need to be able to have access to money," Giddings said. "Savings is a top priority to me because you never know when something might happen. Always try and make it a habit to save first." 
When asked what she plans to do with her winnings, Giddings said that she had some bills to pay but also planned to put some back into her savings account. 
See the video of the surprise:  https://www.youtube.com/watch?v=N3tI9P6u9UM
How the Prize Savings Account works: Neighborhood Credit Union members receive one drawing entry for every $25 monthly average balance in their Prize Savings Accounts. The greater the savings, the greater the chance a member has of winning. Members are eligible for weekly drawings up to $1,000. At the start of each year, a winner is drawn for the $49,999.99 grand prize based on the average monthly balance in the savings account at close of business on December 31.
About Neighborhood Credit Union: The oldest credit union in Dallas (chartered April 18, 1930), Neighborhood Credit Union is a not-for-profit financial organization serving Dallas, Denton and Ellis counties, as well as the City of Arlington. With branches in Dallas, Richardson, Arlington, Mesquite, Duncanville, Waxahachie, Lancaster, Grand Prairie, Coppell, and Highland Village, and assets topping $720 million, Neighborhood Credit Union has a membership of 55,000 and continues to welcome new members daily. For more information, call (214) 748-9393 or visit https://www.myncu.com or follow us on Facebook, Twitter, Instagram, and YouTube.