2022 Grand Prize Winner Announced
Published January 31, 2023
When Sharon Garfield answered a phone call from a Neighborhood Credit Union representative informing her that she had won something and needed to visit her local Coppell branch, she assumed it was a small prize. Once Garfield arrived on January 4, 2023, she was greeted with an oversized check for $49,999.99.   

With absolute shock in her eyes, "What? Are you kidding?" was the first thing Garfield managed to say as she looked at the check presented to her. Garfield has been a member of Neighborhood Credit Union since September 2013.
  
When asked if she had any ideas of what to do with the winnings, she shared that she and her husband had recently started a charitable fund for their family. They will utilize the fund to donate to charities they are passionate about throughout the year, so the Prize Savings Account grand prize money will be an exceptional starter for their fund. Garfield was very gracious and so excited, mentioning that she will keep Neighborhood CU updated with what charitable deeds they do with their fund over the years.   

"We just funded our charity less than two weeks ago. My husband and I are going to access it throughout the year to make charitable donations," said Garfield. "In October we will have an all-family meeting, and that is when everyone will have an opportunity to get involved and pick a charity of their choice to donate with the remaining funds. This $49,999.99 will be a great contribution to our cause!"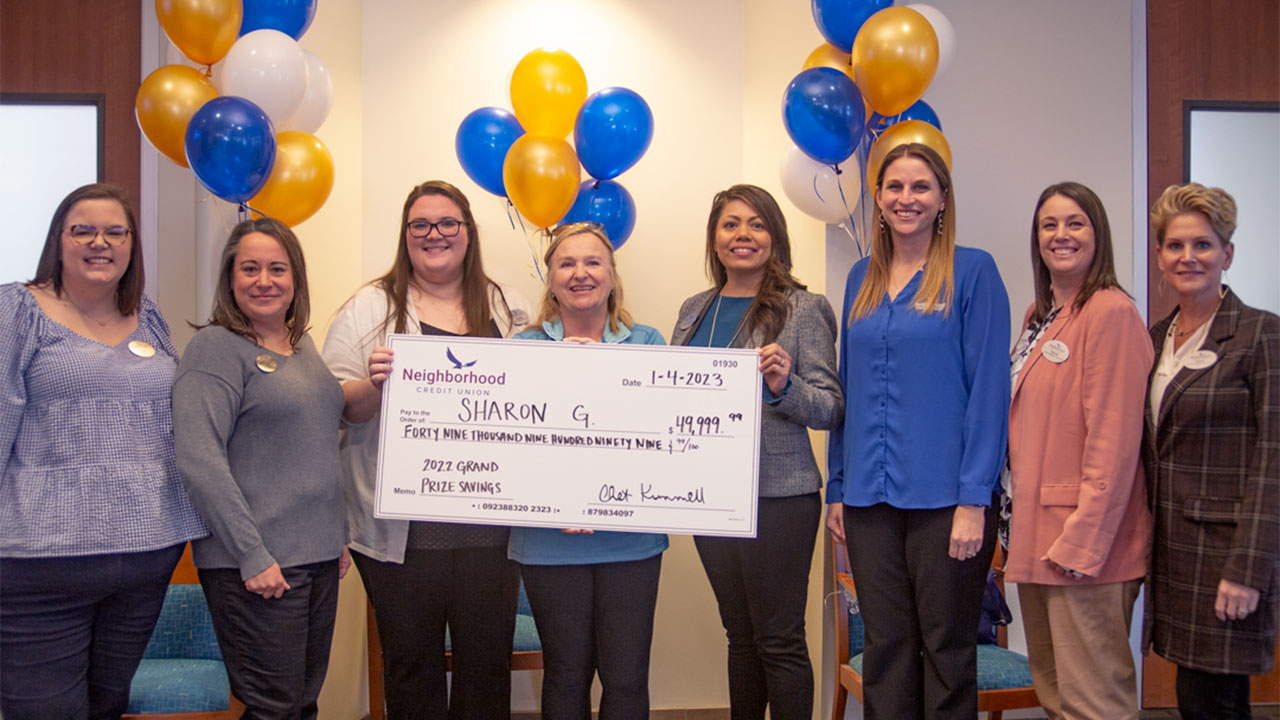 From Left to Right: Coppell DES, Katelyn H.; Community Relations Officer, Roxann B.; Coppell Branch Manager, Rachel B.; 2022 Grand Prize Winner, Sharon G.; SVP of Retail and Business Development, Francis S.; SVP of Marketing and Communications, Jessie S.; AVP of Marketing, Rachel P.; and VP of Retail, Carrie P. 
Neighborhood Credit Union created the
Prize Savings Account
in 2007 when saving accounts were at an all-time low. The goal of Prize Savings was to encourage more people to save money by offering prizes and rewards throughout the year, so members could experience immediate and tangible rewards to help incentivize good savings habits that can reap long-term. Over the years, the prizes have changed from physical to cash deposits. Neighborhood Credit Union has weekly giveaways of $1,000, along with the grand prize of $49,999.99, announced every year in January.  
"This is our 15th grand prize giveaway since the launch of our Prize Savings account and it's always one of the highlights of our year! Our goal is to provide an avenue that encourages better savings habits and leads to the financial security our members deserve,"
said Senior Vice President of Retail and Business Development, Francis Santana.
"We keep the concept simple to ensure everyone can take advantage of our program, and we add a fun factor with our giveaways. We are proud of the meaningful impact Prize Savings is making in our members' lives, and we hope to keep building on that."
How the Prize Savings Account Works
Neighborhood Credit Union members receive one drawing entry for every $25 monthly average balance in their Prize Savings Account. The greater the savings, the more chances a member has of winning. Members are eligible for weekly drawings, culminating with the annual grand prize, drawn each January 1 based on the average monthly balance in the savings account at close of business December 31. 
Catch Up on More News
Explore News & Events for more updates on what's happening in your community and at the credit union.
Who We Are 
As an active part of the community for 92 years, Neighborhood Credit Union is a not-for-profit financial organization serving the state of Texas with branch locations in Collin, Dallas, Denton, Ellis, and Tarrant counties. With assets topping $1 billion, Neighborhood Credit Union has a continuously growing membership of over 60,000. For more information, call (214) 748-9393 or visit our homepage.