Valentine's Day Doesn't Have to Break the Bank
Published January 31, 2018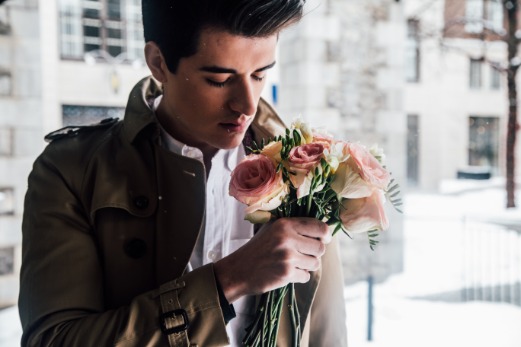 By Jordan Ottaway
January is almost over. (Crazy, right?) That means that Valentine's Day is upon us. Now before you go scheduling a hair appointment or getting your suit pressed, I wanted to show you that you don't have to bust your budget in order to have a romantic Valentine's Day.
This is a day where you want to make your loved one feel special, so here are some ways you can save money without sacrificing romance. Break the traditional Valentine's Day dates and make your celebration unique to your relationship.
Let's get started.
Make your gifts
Good gifts don't have to be expensive. Try your hand at making your own. Don't get nervous, it's really not that hard and it is a romantic gesture taking the time to make something.
Get creative and craft a card with a personal note or something funny that you know they will love. If you like to make videos, make a video that tells the story of your relationship. You can also make a scrapbook documenting your time together.
But if you really don't think you can make a good gift, finding other nontraditional gifts that you know your significant other will love are great options. If they love to read, head over to your local book store where there are plenty of gift ideas for them. Just be sure you know what kind of books they like. My wife reads a lot so I speak from experience.
You don't have to go out ON Valentine's Day
This year Valentine's Day is in the middle of the week, and I don't know about you, but staying out late knowing that you have to work the next day is kind of a killjoy. Last year my wife (then girlfriend) and I had 8 p.m. reservations at a nice restaurant. It was great fun, but we didn't leave until almost midnight. Needless to say, the following workday was a long one.
I tell you that story to say that you don't have to go out ON February 14th. Go out the weekend before or the weekend after. That way you can have a nice evening without worrying about being tired the next day.
Not to mention that you won't have to mess with the Valentine's Day prices many restaurants have. Typically, there's a fixed menu due to the higher traffic, so going on a different day can help you avoid that and save money in the process.
Keep in mind that doing this is becoming popular, so it's still a good idea to make a reservation beforehand.
Or just stay in  
Skip the crowded restaurants. You can celebrate in the comfort of your own home. Surprise your date by cooking their favorite meal or you two could venture out and cook a new recipe together. Then add a tablecloth and some candles and you're good to go.
After you're full from dinner, you can watch a movie to unwind. No, it doesn't have to be a mushy romantic movie. (It can if you want it to be.) It could be anything. If you two want to watch a Sci-Fi, action, or comedy movie, go for it. This is your night.
What makes it even better is that you don't have to battle DFW traffic.
Go off the beaten path and do something unique
Who says you have to go on the traditional fancy date for Valentine's Day? Mix it up a little. If you both like doing something outdoors, and this Texas weather will allow it, then you could go hiking or enjoy a picnic outside.
If you both love board and card games, break out your favorite game and see who this year's Valentine's Day victor will be. The list can go on and on.
The moral of this story? This is your time to celebrate your relationship and you don't have to shell out a ton of money to show that your care about your date. Make it your own and have fun with it.

Jordan Ottaway contributed to the Neighborhood Credit Union blog from 2016 - 2019.