Cybersecurity Reminders from Neighborhood CU
Published October 29, 2021
As we reach the end of Cyber Security Month and enter the holiday shopping season, let's discuss terms associated with cybersecurity and a few best online safety tips I've come across over the month that you can take with you as you start making online purchases for your loved ones.   

Before we dive into how you can protect yourself, let's brush up on a few terms you hear when it comes to cybersecurity.  
The Lingo
According to Cybersecurity & Infrastructure Security Agency, cybersecurity is the art of protecting networks, devices, and data from unauthorized access or criminal use and the practice of ensuring confidentiality, integrity, and availability of information.  
A hacker, scam artist, or scammer are the people who seek to exploit weaknesses in software and computer systems for their gain into an individual's private or public device. 

Malicious code (also called malware) is unwanted files or programs that can cause harm to a computer or compromise data stored on a computer. Other names malicious code my go by include viruses, worms, and Trojan horses. To get a malicious code onto your computer, they might try to trick you into opening an email attachment, following a web address, or they might attack without any prompt. Some malicious malware will disguise itself as one thing, such as promising to clean up data on your computer, when in reality they're stealing your information.   

Vulnerabilities are the flaws in software, firmware, or hardware that scammers can exploit to perform unauthorized actions in a system. Typically, these vulnerabilities can be caused by programming errors. Online scammers take advantage of these errors to infect computers with malware or perform other malicious activities. Now, let's discuss the best practices in avoiding device vulnerability.  
Keep your Antivirus Software Updated 
Picking quality antivirus software is vital in protecting your device from most malicious code. The job of the program is to detect, trap, and eject a variety of malicious code. One thing to note about antivirus software is that enabling automatic updates will maximize protection against developing malicious code. While antivirus software is the leading defense against malicious code, there can be mishaps. Staying vigilant when it comes to any links, emails, or websites is vital. 
Be Cautious of Unexpected Emails, Tweets, Texts, and Online Messages  
Phishing emails, texts, and social media direct messages are currently the most common scam risks to the average user. The goal of phishing is to gain information about you, steal money from you, or install malware on your device. If you receive an email that seems suspicious, never click on the links provided. 
Use Unique and Strong Passwords  
Picking passwords that are difficult, (i.e. using special characters, unique words, numbers, and more) will be difficult for attackers to guess. It's also not recommended to use the same password for the different programs you use. If the program provides a default username and password, you should change both as soon as possible as default credentials are easy for scammers to crack.   
Opt-in to use Multi-Factor Authentication (MFA)  
Authentication is a process used to maximize the security of a user's identity. Scammers have become experts at surpassing a program's weak authentication processes, and this is why MFA was introduced. Most MFAs require two identity factors to authenticate the user, overall minimizing the risk of a scammer gaining access to an account if they know the username and password.   
Utilize a Firewall 
A firewall is a network security system that monitors and controls the incoming and outgoing network traffic based on security requirements. By installing a firewall, you may be able to prevent some types of attacks by blocking malicious traffic before it can enter a computer system. 
Keep your Device's Software Updated 
Keep all devices you own up-to-date to reduce the risk of malware attacks. The majority of devices can be set to automatic updates and will notify you if or when your device has been updated. 
Back Up Your Devices
If your device does fall victim to malicious malware, you might have to wipe your computer, phone, or tablet completely clean. To combat this, be proactive and back up your device frequently. Regularly backing up your photos, work documents, music, contacts, and other important information will prevent you from losing everything. It's wise to follow the 3-2-1 rule when it comes to backing up your device information. Keep at least three copies of your data, store two backup copies on different storage media, and one backup copy located elsewhere.  
Keep up with your Accounts. 
Nearly everything now requires you to create an account, sign up for emails, or download an app. While we might not think much of it at the time, something to keep in mind is to check in on those accounts yearly to make sure the privacy policies have not changed and if they have, make sure you're still comfortable with them having your information. 
Master the HotSpot  
Working at your local coffee shop might sound ideal, but did you know that public networks are a scammer's dream? Many times, public networks are not nearly as secure as they should be. Weak WiFi makes a scammer's job easier at gaining access to your personal information. Always try to limit what you access on a public network and avoid logging into sensitive accounts, such as a bank account. When in doubt, utilizing a virtual private network (VPN) or a personal hotspot is always the more secure option.   
Conclusion  
Scammers and hackers are everywhere, but following the tips provided gives you your best chance of not falling victim. As a reminder, Neighborhood Credit Union will never reach out to members and ask for personal information. If you receive a call from us that seems suspicious, do not hesitate to hang up and physically dial our number to confirm we were trying to contact you. If you receive a text or email from us that seems suspicious, do not click on any links, notify us of the message you received, and delete the text or email.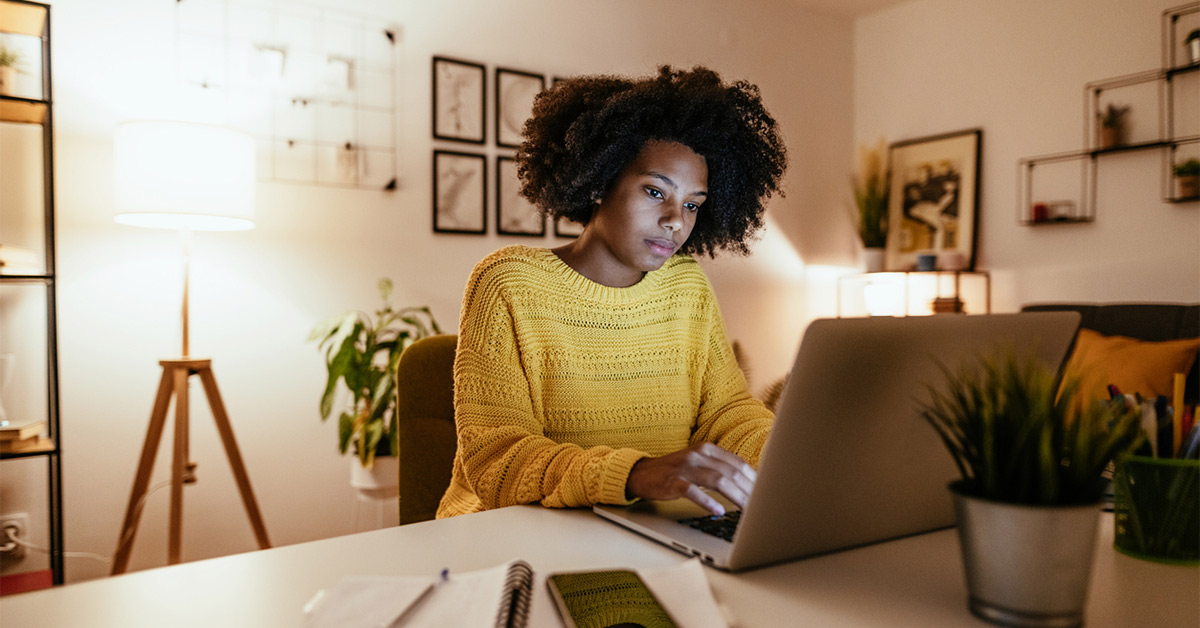 Skyler has been a Marketing Content Specialist at Neighborhood Credit Union since 2019. 
Who We Are 
As an active part of the community for 92 years, Neighborhood Credit Union is a not-for-profit financial organization serving the state of Texas with branch locations in Collin, Dallas, Denton, Ellis, and Tarrant counties. With assets topping $1 billion, Neighborhood Credit Union has a continuously growing membership of over 60,000. For more information, call (214) 748-9393 or visit our homepage.