June 2020 Random Act of Kindness at Uptown
For June's highlight on our random acts of kindness, the Uptown branch decided to go for a community-wide approach. To show their appreciation to Neighborhood Credit Union members, the team came up with "COVID Kits". Carefully crafted and perfectly sized for the drive thru, the Uptown team worked together to create the kits. Inside each kit there contained a small hand sanitizer bottle, facial tissue, travel-sized disinfectant wipes, and assorted candy for a fun surprise.   
"We hope this will put a smile on our members' faces and replenish their supplies during these uncertain times," says Branch Experience Specialist Angelica Lipcamon. 
Many at this time have found it difficult to keep essential items such as disinfectant wipes on hand. That's why the Uptown team chose to make these kits as to thank individuals for their continued membership. While still actively practicing social distancing, the Uptown team brightened members' day with a random act of kindness.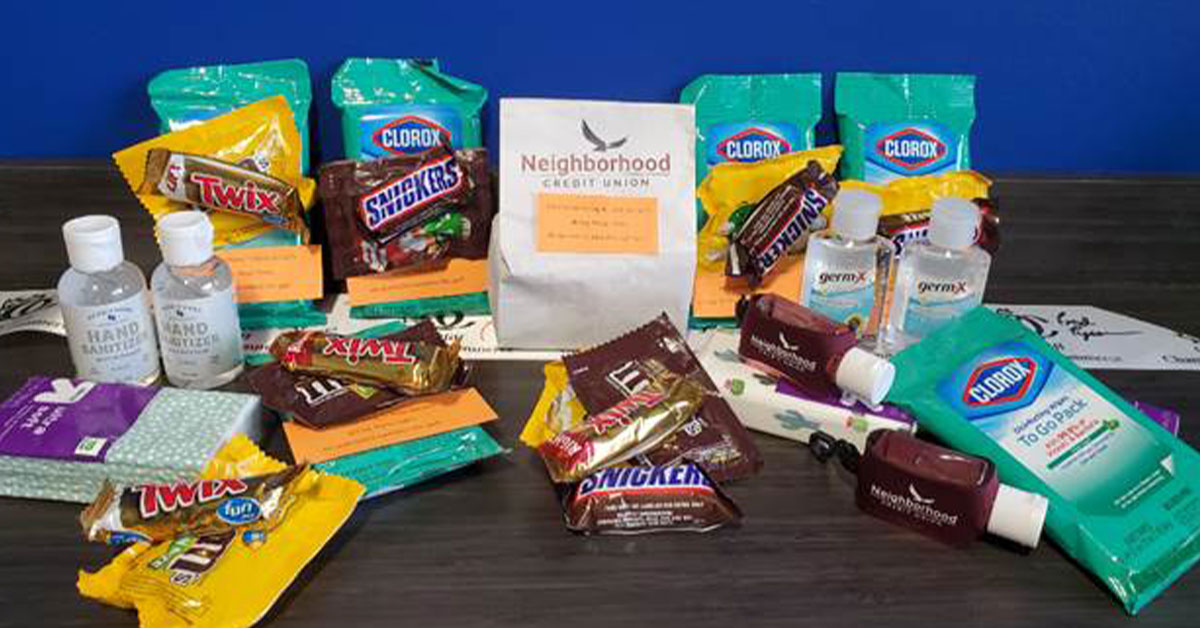 Why We Do Random Acts of Kindness 
At Neighborhood Credit Union, we put the emphasis on neighborhood, and we work endlessly to make a positive difference in our member's lives because they are what makes us who we are. We started doing random acts of kindness to simply show our members that we are thankful for them. We love getting to know our members and working with them every day, so performing random acts of kindness is just our way of giving back and saying thank you. If you love what you just read, check out other random acts of kindness we've done in the past.   
About Neighborhood Credit Union 
Operating for over 90 years, we currently serve 56,000 members throughout the Dallas-Fort Worth area. As a not-for-profit organization, we are in the pursuit of helping people achieve their short and long-term financial goals. With assets topping more than $850 million, we continue our efforts in offering members convent services in their communities and online access, making us a top-rated credit union in Dallas-Fort Worth.   
Neighborhood Credit Union currently has 13 Dallas-area branches in Coppell, Oak Cliff, Dallas, Arlington, Mesquite, Duncanville, Highland Village, Lancaster, Grand Prairie, Richardson, and Waxahachie. 
Catch Up on More News
Explore News & Events for more updates on what's happening in your community and at the credit union.