Spam Text Messages During the 2021 Holidays
Published November 30, 2021
Photo: Example of spam text message claiming to be Neighborhood Credit Union.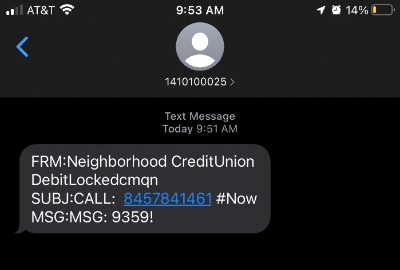 'Tis the season for spam text messages and phishing! We have several reports from our members that they've received a spam text message claiming to be Neighborhood Credit Union. The most common text message has been claiming that their Neighborhood CU debit card is locked and asks them to call a number to have it restored. Some members have been spammed this message over 20 times!
Please remember that we will never contact you to alert you that your debit card has been locked - the card will just stop working. This is 100% for your security and protection. Requiring you to initiate contact with us avoids potential scams (just like this one!) to be successful, where it is easy to confuse what alert is real and those that aren't.
As a reminder, our main priority is members' safety, and Neighborhood Credit Union will never initiate communication and then ask for your personal information via phone, text, or email. If you receive a phone call, text, or email from us that seems suspicious, please do not hesitate to alert us by calling 214-748-9393. 
Spam Text Messages and Phishing
According to the Federal Trade Commission (FTC), scammers' main goal when sending fake text messages is to trick you into giving them your personal information, such as your password, account number, or Social Security number. If they get that information, they could gain access to your email, bank, or other accounts. 
Potential spam text messages could be:
offers for free prizes, gift cards, or coupons
offer you a low or no interest credit card
promise to help you pay of debt, such as a student loan
Scammers also send fake messages that say they have some information about your account or a transaction, just like we have been seeing the past few weeks. The scam messages may:
say they're alerting you to suspicious activity on your account
claim there's an issue with payment information
send you a fake invoice and tell you to contact them if you didn't authorize the purchase
send you a fake package delivery notification
The messages will more than likely ask you to give some personal information — like how much money you make, your bank account, or Social Security number — to claim your gift or pursue the offer. Or they may tell you to click on a link to learn more about the issue and lead you to a spoofed website that looks real but isn't. 
Clicking on spam text message links could also potentially install harmful malware your phone that steals your personal information without you realizing it.
How To Report Spam Text Messages
If you get an unwanted spam text message, there are three ways to officially report it:
Report it on the messaging app you use. Look for the option to report junk or spam.
Copy the message and forward it to 7726 (SPAM).
Report it to the Federal Trade Commission at

 

ReportFraud.ftc.gov.
Catch Up on More News
Explore News & Events for more updates on what's happening in your community and at the credit union.
Who We Are 
As an active part of the community for 93 years, Neighborhood Credit Union is a not-for-profit financial organization serving the state of Texas with branch locations in Collin, Dallas, Denton, Ellis, and Tarrant counties. With assets topping $1 billion, Neighborhood Credit Union has a continuously growing membership of over 60,000. For more information, call (214) 748-9393 or visit our homepage.