Package Delivery Text Message Scams
Published January 30, 2023 
Package delivery Text Messaging scams are on the rise and can potentially cause severe financial damage. These scams involve delivery companies sending text messages that appear to be from legitimate delivery services, but they are designed to gain access to a person's personal information.   
How Delivery Text Message Scams Work
The texts may contain links or attachments that promise delivery of a recent purchase or even goods you never bought. Once clicked, these links and attachments can install malicious software onto your device or direct you to fraudulent websites where hackers can steal your personal data, such as banking and credit card numbers. Even worse, clicking on these malicious links could give criminals remote control over your device. 
 
It is essential to know how to identify delivery text messaging scams. First, look for typos and poor grammar in the message, which indicates that it is from someone other than an authentic delivery service. Additionally, delivery companies usually do not send out messages with links or attachments.   
Example of a Delivery Text Message Scam
Below is an image of a delivery text message scam. The person who received this was expecting a package via United Sates Postal Service USPS, but noticed the odd formatting of the message and identified the text as spam.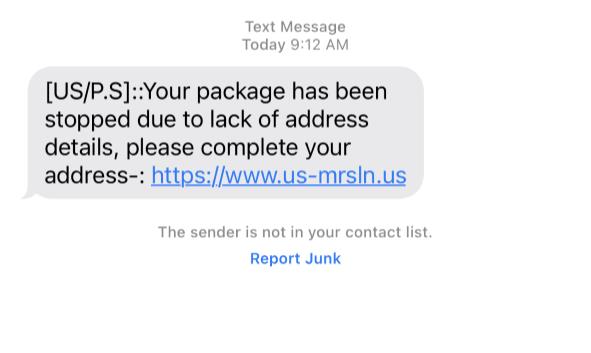 Double-check any message you receive from a delivery company before clicking on any link or downloading any attachment. If you need clarification on the message's legitimacy, contact your delivery company directly to verify its authenticity before responding.   
By being aware of delivery text messaging scams and taking measures to protect yourself against these threats, you can avoid becoming a victim of fraud. Stay vigilant and keep your information safe!  
As a reminder, Neighborhood Credit Union or any other financial institution will never contact you via phone call, text, or email and ask you for personal information such as account passwords, numbers, or social security numbers. If you receive a form or communication from us that seems suspicious, notify us directly by calling 214-748-9393 or by sending us a secure chat or email in Online Banking. 
Catch Up on More News
Explore News & Events for more updates on what's happening in your community and at the credit union.
Who We Are 
As an active part of the community for 93 years, Neighborhood Credit Union is a not-for-profit financial organization serving the state of Texas with branch locations in Collin, Dallas, Denton, Ellis, and Tarrant counties. With assets topping $1 billion, Neighborhood Credit Union has a continuously growing membership of over 60,000. For more information, call (214) 748-9393 or visit our homepage.