Neighborhood CU Opens New Branch in Coppell
FOR IMMEDIATE RELEASE 
September 25, 2013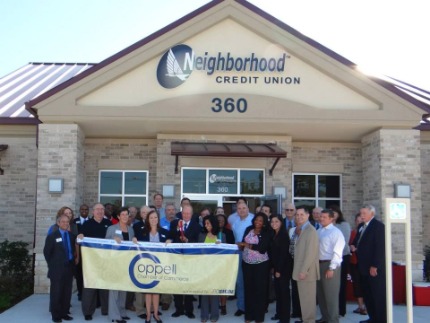 Neighborhood Credit Union and Coppell Leaders Cut Ribbon on New Coppell Branch
DALLAS, Texas – The oldest credit union in Dallas cut the ribbon on its newest location in Coppell on Tuesday. The new Neighborhood Credit Union branch received a warm welcome from Coppell elected officials, Chamber of Commerce and community leaders, and nearby business owners as it officially made its debut into the community.
"We are here because we believe in the Coppell community," said Chet Kimmell, president and CEO of Neighborhood Credit Union, a not-for-profit, member-owned financial institution. "From its humble beginnings as a small farming community, to today's Coppell, where families cherish great schools and neighborhoods, and where businesses flock for the strong workforce and convenience to DFW, Coppell is right where we want to be!"
The Neighborhood Credit Union team was joined by Coppell Mayor Karen Hunt, State Rep. Bennett Ratliff (R-Coppell), Coppell Chamber of Commerce President Kristi Valentine and Chairman of the Board Cliff Long, as well as numerous chamber members and staff.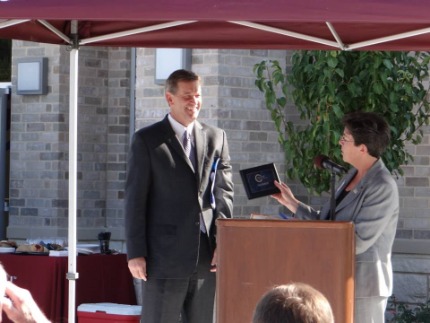 Neighborhood Credit Union's Walter Stanley has been named manager of the new Coppell branch, located at 360 South Denton Tap Road. Although the credit union officially opened its doors last week, Ms. Valentine noted that Stanley has already jumped feet first into the Coppell community, recently participating in the annual "Biz Walk through Coppell," where he joined her in personally visiting with a number of local businesses.
After giving Neighborhood Credit Union a warm welcome to the Coppell community, Mayor Hunt, who also serves on the Chamber Board of Directors, presented Kimmell with the official Coppell Chamber membership plaque. "We take great pride in our Coppell community, where businesses lend a hand to one another," said Mayor Hunt. "We welcome you to the Coppell family."
Become a Member
Do you want access to exclusive rewards and outstanding products? Learn what it really means to be a member and why it matters.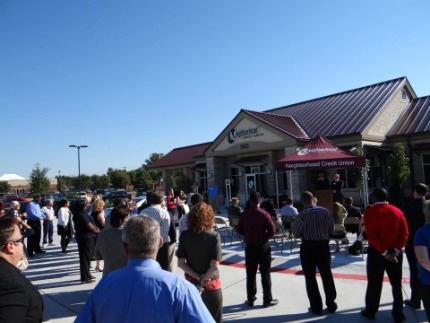 About Neighborhood Credit Union:
the oldest credit union in Dallas (chartered April 18, 1930), is a not-for-profit financial organization serving Dallas and Ellis counties, as well as the city of Arlington. With branches in Oak Cliff, North Dallas, Richardson, Arlington, Mesquite, Duncanville, Waxahachie, Lancaster, Grand Prairie and now Coppell, Neighborhood Credit Union has assets of $325 million and a membership of 30,000 and continues to welcome new members daily.