Neighborhood Credit Union Wins Award for Logo Design
November 5, 2019
Allen, TX:
This November Neighborhood Credit Union won an award for its logo design at the annual Cornerstone Credit Union League Conference which was held in Allen, TX. This year members throughout the league gathered for a variety of workshops and the presentation of the
2019 Pinnacle Award Winners
.

Held at the Delta Hotel and Waters Creek Convention Center in Allen, TX November 4-6, Cornerstone Credit Union League members from Texas, Oklahoma, and Arkansas gathered for the annual Growth and Engagement Conference where the Marketing and Business Development Council recognized the 2019 Pinnacle Award Winners. With more than 20 categories, it is an opportunity to celebrate credit unions and their staff for their creativity, hard work, and execution of all things marketing. In attendance were nearly 100 members. 

Neighborhood Credit Union competed alongside credit unions from Texas, Oklahoma, and Arkansas who all qualified in asset sizes $400 million - $1 billion. After submission, Cornerstone Credit Union League partnered with judges who either work for credit unions outside of Texas, Oklahoma, and Arkansas or work for a vendor that has partnered with credit unions. This year 7 judges from across the US participated in selecting the Pinnacle Awards. 

This win comes right after launching a complete rebrand in October 2018. Senior Vice President of Remote Services and Member Development Carolyn Jordan said, "We are proud of our marketing team and look forward to more recognition like this for our award-winning brand."
As an active part of the community for 90 years, Neighborhood Credit Union is a not-for-profit financial organization with
locations
in Collin, Dallas, Denton and Ellis counties, as well as the city of Arlington. Located all across North Texas and assets topping $715 million, Neighborhood Credit Union has a continuously growing membership of 56,000. For more information, call
(214) 748-9393
or visit
myncu.com.
Catch Up on More News
Explore News & Events for more updates on what's happening in your community and at the credit union.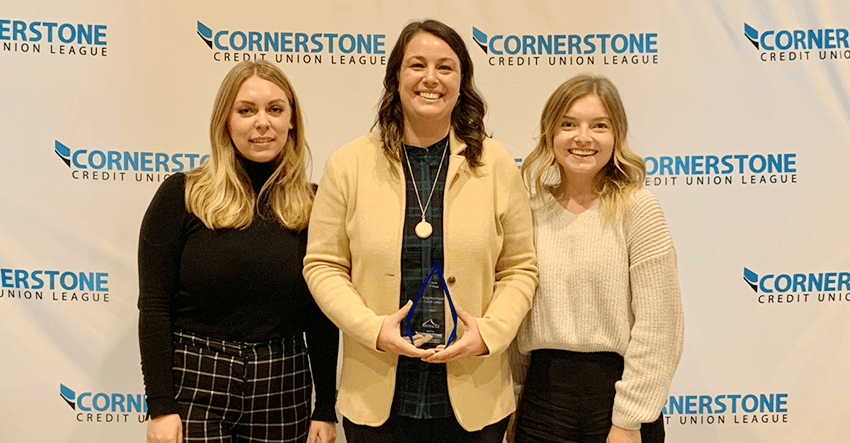 Neighborhood marketing department at the presentation of the Cornerstone Credit Union League 2019 Pinnacle Awards for logo design.