Dallas Navy Veteran and Postal Retiree Starts 2019 with a Surprise in His Savings Account
Published January 14, 2019
DALLAS, Texas – Saying he thought he might win "a coffee cup or something," Dallas retiree and Navy veteran Ernesto Arce wiped away tears Friday morning as Neighborhood Credit Union leaders surprised him with hugs and an extra $49,999.99 in his savings account.
The longtime Neighborhood Credit Union member walked into his credit union's Mesquite location, where he was shocked to see staff members holding a giant prize "check" made out in his name.
"This is a joke," said Arce, shaking his head. After being assured the prize was real, Arce's skepticism turned into a smile. The actual prize was deposited directly into his Prize Savings Account.
Arce's name was drawn from the ranks of credit union members who have a Prize Savings Account, a special account created to encourage more people to save money. Neighborhood Credit Union members receive one drawing entry for every $25 monthly average balance in their Prize Savings Accounts. The greater their savings, the greater the chance a member has of winning one of the weekly $1,000 drawings or quarterly $10,000 drawings. At the conclusion of each year, a winner is drawn for the $49,999.99 grand prize, based on the average monthly balance in the savings account at the close of business December 31.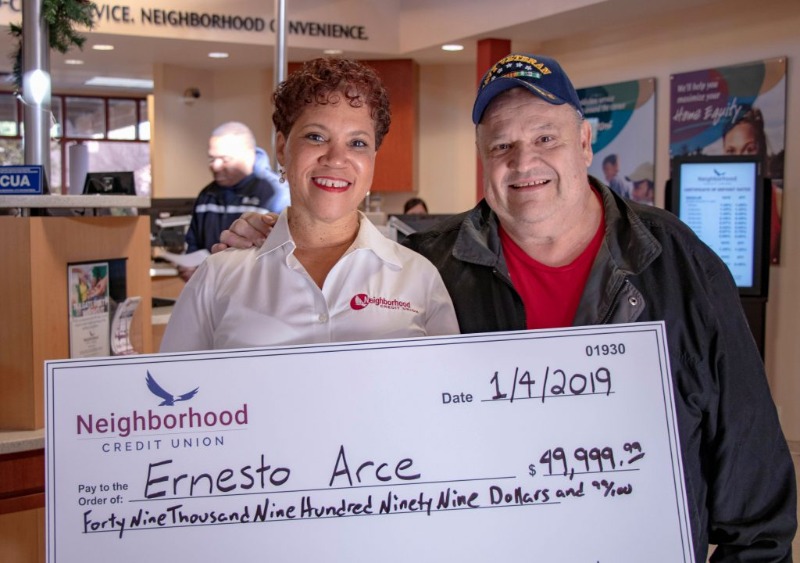 "Ernesto is a lifelong saver, dating all the way back to the start of his service in the Navy," noted Neighborhood Credit Union Senior Vice President Carolyn Jordan. "His story is a terrific example of the benefits that can come from living modestly and saving for a rainy day."
Arce became a member of Neighborhood Credit Union in 1984, when he began his career with the U.S. Postal Service. The 64-year-old veteran retired about two years ago.
"My philosophy has always been to buy what I need and save for what I want," said Arce. "Saving money is the best thing in the world because you don't know when the rain is going to come."
When asked whether he had big plans to travel or spend the windfall, Arce said he already had seen the world when he was in the Navy and likely would just keep the money in his Prize Savings Account.
"This is the last thing I would have expected," said Arce. "It's definitely better than a coffee cup!"
About Neighborhood Credit Union
The oldest credit union in Dallas (chartered April 18, 1930), Neighborhood Credit Union is a not-for-profit financial organization serving Dallas, Denton and Ellis counties, as well as the city of Arlington. With branches in Oak Cliff, North Dallas, Richardson, Arlington, Mesquite, Duncanville, Waxahachie, Lancaster, Grand Prairie, Coppell, Downtown Dallas and Highland Village, and assets topping $720 million, Neighborhood Credit Union has a membership of 55,000 and continues to welcome new members daily. For more information, call (214) 748-9393 or visit www.myncu.com.