Beware of an Ongoing Email Scam While Third Economic Impact Payments are Still Available
Published November 17, 2021
Beware of an Ongoing Email Scam While Third Economic Impact Payments are Still Available  
Since the signing of the American Rescue Plan in March of 2021, the majority of eligible Americans have received a third pandemic-era Economic Impact Payment (EIP) of up to $1,400. A few eligible Americans have not received their third payment yet, and scammers are taking advantage of the waiting individuals. 
Scam Emails Promising Third Stimulus Check 
Scammers may target those still waiting for the third payment or those not eligible for the third payment. The fraudulent emails will appear to be from the IRS (Internal Revenue Service), and prompt the individual to follow a link provided to fill out an application that claims to help them get their payment faster. 

Do NOT click on the link. 

The link is how the scammers are getting personal information. Below is an example of what the fraudulent email may look like. Please note that the 'From' email address is NOT actually from the IRS.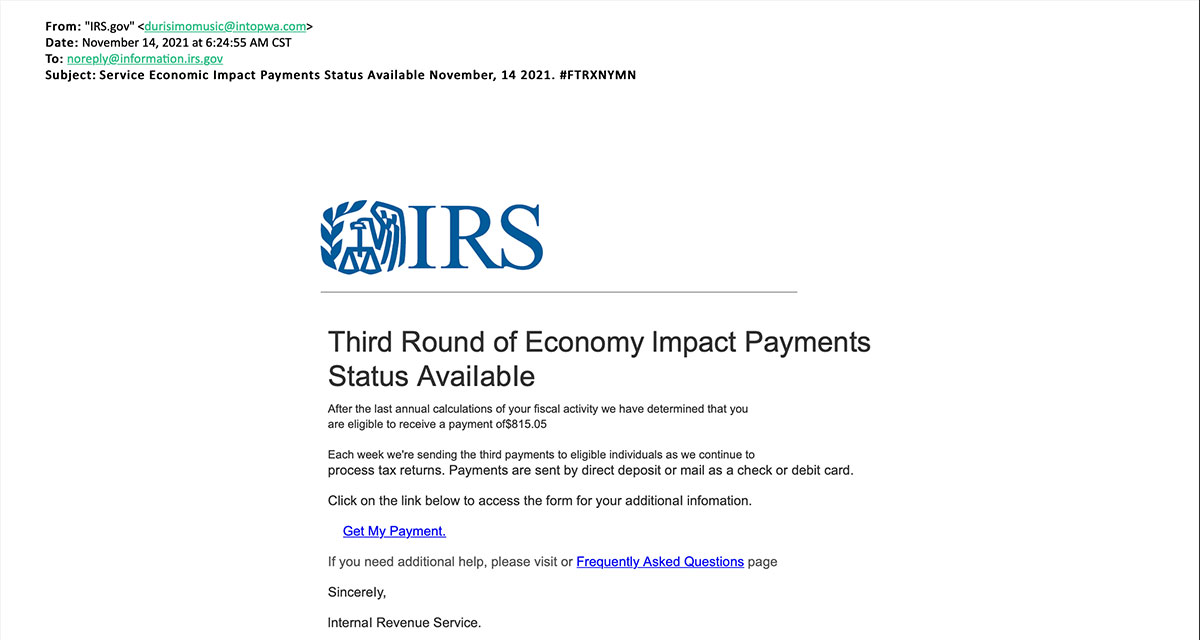 "The IRS doesn't initiate contact by email, text messages or social media channels to request personal or financial information — even information related to the Economic Impact Payments," according to the tax agency. "Watch out for emails with attachments or links claiming to have special information about Economic Impact Payments or refunds." 
It is highly recommended that you ignore the email and delete it from your inbox, or forward it directly to the IRS at phishing@irs.gov. 
 
As a reminder, Neighborhood Credit Union will never initiate communication and then ask for your personal information via phone, text, or email. If you receive a phone call, text, or email from us that seems suspicious, please do not hesitate to alert us by calling 214-748-9393. 
Catch Up on More News
Explore News & Events for more updates on what's happening in your community and at the credit union.
Who We Are 
As an active part of the community for 93 years, Neighborhood Credit Union is a not-for-profit financial organization serving the state of Texas with branch locations in Collin, Dallas, Denton, Ellis, and Tarrant counties. With assets topping $1 billion, Neighborhood Credit Union has a continuously growing membership of over 60,000. For more information, call (214) 748-9393 or visit our homepage.