Neighborhood Credit Union's 2021 Scholarship Recipients
Published May 28, 2021
Dallas, TX: Last week, Neighborhood Credit Union presented three high school seniors with a college scholarship that will go towards the 2021-2022 school year.  
This year's prompt was simple: "2020 was a year unlike any other and many experienced virtual, erratic learning for the first time. What kept you motivated to do your best in school, and how has this uniquely prepared you for the future?" 
Students had the option to submit an essay or video and this year Neighborhood Credit Union received a record-breaking number of entries. After combing through over 75 submissions, the Texas credit union named the three scholarship recipients of 2021: 
Eric is a senior at Lancaster High School and intends on attending Navarro College in the fall of 2021. In the essay, Eric spoke about the support of his family and his passion for animals. Eric plans to pursue a degree in veterinary medicine. 
Sherlon is a senior at Frisco High School and intends on attending Collin County Community College in the fall of 2021. Sherlon spoke of the different challenges he saw the entire world experience in 2020 and how it has motivated him to create a better future for himself and others.   
Caitlyn is a senior at JJ Pearce High school and intends on attending the University of Michigan in the fall of 2021. In her video, Caitlyn spoke about her passion for opera and the importance of prioritizing your mental health during challenging times. Caitlyn intends to pursue a degree within the musical space.   
"I'm so impressed by each and every student that submitted an application for our scholarship," said Skyler Tumbleson, Neighborhood Credit Union Marketing Specialist. "It was an honor to get to know each student on a more personal level, and I am so amazed at how well the younger generations have handled this extremely difficult year. Their motivation to keep moving forward is so inspiring."
Neighborhood Credit Union announced the return of its annual scholarship in February of 2021 after taking a year off from the scholarship program in 2020 due to the COVID-19 pandemic. Those applying for the scholarship had to be a member or be related to a member of Neighborhood Credit Union, be a high school senior or a college freshman with at least a 3.0 GPA, and plan on or is currently attending a two-year or four-year accredited university or college. 
Who We Are 
As an active part of the community for 90 years, Neighborhood Credit Union is a not-for-profit financial organization serving the state of Texas with branch locations in Collin, Dallas, Denton, and Ellis counties, as well as the city of Arlington. With assets topping $1 billion, Neighborhood Credit Union has a continuously growing membership of 56,000. For more information, call (214) 748-9393 or visit our homepage.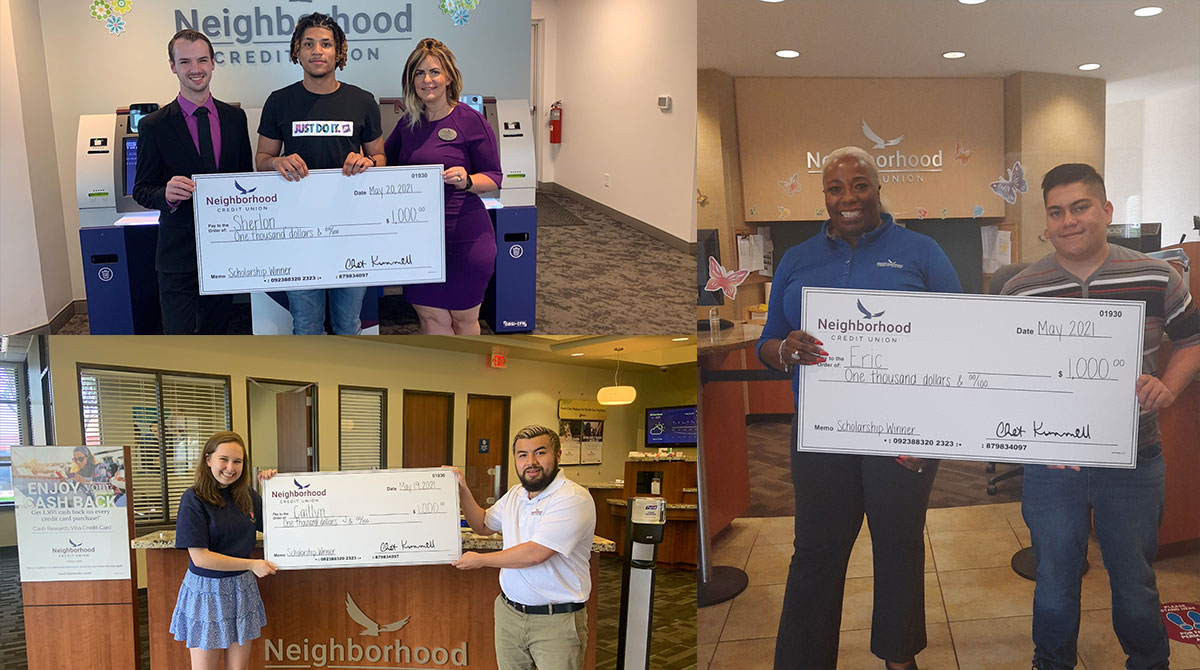 Top Left: Prosper Team with Sherlon 
Bottom Left: Richardson Team with Caitlyn
Right: Community Development Team with Eric 
Catch Up on More News
Explore News & Events for more updates on what's happening in your community and at the credit union.