Real Time Alerts At Neighborhood Credit Union
Published May 18, 2022 
Starting Tuesday, May 17, 2022, Neighborhood Credit Union members will have a way to monitor their accounts in real time. Members can utilize Near Real Time Alerts in online banking and receive alerts within the hour for high balance, low balance, large deposit, and large withdrawals.  
With Near Real Time Alerts, notifications will be sent within the hour of balance changes during the day instead of the previous once-a-day delivery. This update will enhance the members' ability to monitor their accounts more efficiently.
Is Near Real Time Alerts the same as Alerts and Controls? 
No, Near Real Time Alerts will be a separate service from Alerts and Controls. However, both will be located in online banking.   

Members with account alerts will not have to make any changes. But for any members wanting to set up new alerts, this can be set up in Online Banking in Additional Services> Mobile Banking and Alerts or Settings> Other Settings> Alerts & Notifications to be delivered by text or email.  
Is Real Time Alerts for Cards?
Unlike Alerts and Controls, Near Real Time Alerts are for account alerts only and are not for Debit and Credit cards. Debit and Credit cards are different alert types set up within Card Management under Alerts and Controls.  

Near Real Time Alerts can only be set up in Online Banking.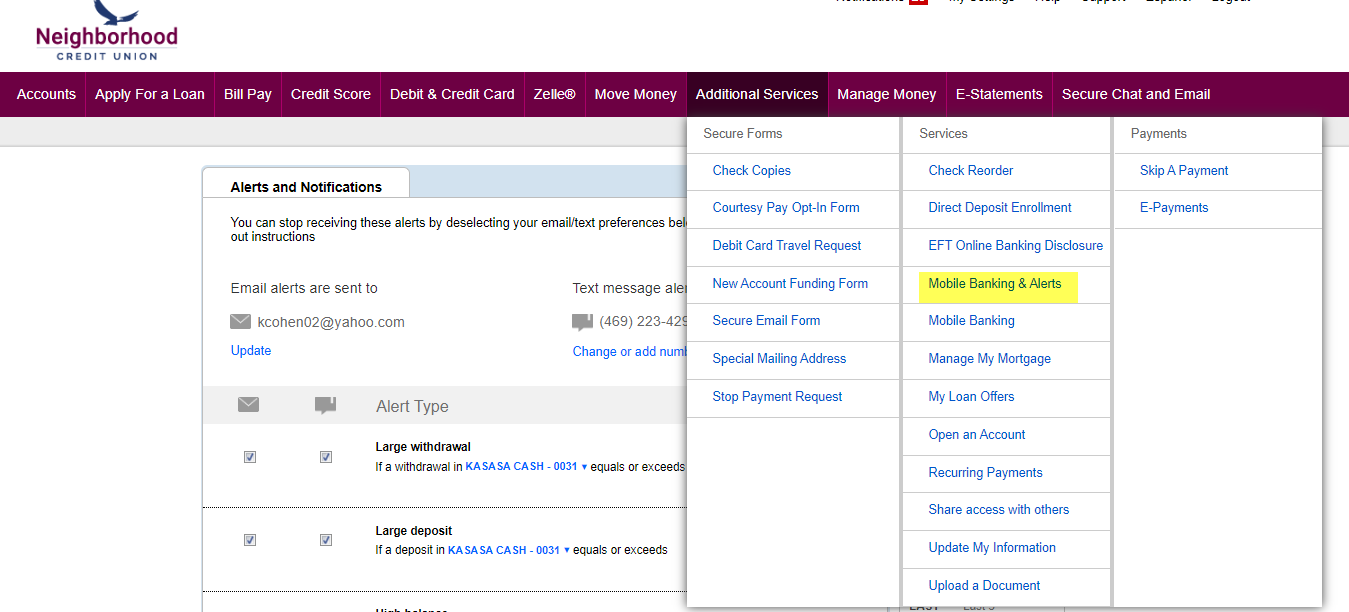 Near Real Time Alerts are Located Under Additional Services in Online Banking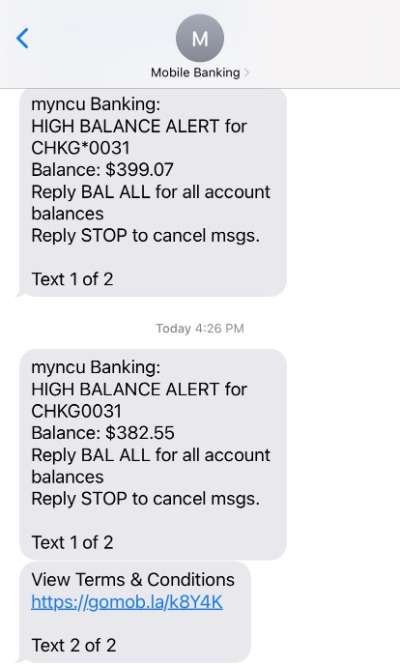 An example of Near Real Time Alerts via Text Message  
Catch Up on More News
Explore News & Events for more updates on what's happening in your community and at the credit union.
Who We Are 
As an active part of the community for 92 years, Neighborhood Credit Union is a not-for-profit financial organization serving the state of Texas with branch locations in Collin, Dallas, Denton, Ellis, and Tarrant counties. With assets topping $1 billion, Neighborhood Credit Union has a continuously growing membership of over 60,000. For more information, call (214) 748-9393 or visit our homepage.