Published January 19, 2022
From January 12, 2022 until February 28, 2022, qualified individuals are guaranteed to win low auto rates at Neighborhood Credit Union!  
Play to Win
Now you can play to win either 1% or 2% APR off your qualified rate on a Neighborhood Credit Union auto loan.1  To make this win/win situation even better, it's open to both current members of Neighborhood Credit Union and nonmembers.  
How to Play
To play, all you need is a phone, tablet, or computer. Follow the
myncu.com/win
link and select the "Click to Play" button. You'll be directed to the game and all that is left to do is scratch away to see what you have won! You can continue by clicking the "apply now" button and complete your auto loan application with the applied discount.  
Auto Loan Rates at Neighborhood Credit Union
Currently, we offer auto loan rates as low as 1.99% annual percentage rate2 on new and used vehicles. We even offer loan terms up to 72 months!   
60 months or Less: as low as 5.99 APR
72 months: as low as 6.74 APR
120 Days No Payments on Your Neighborhood Credit Union Auto Loan 
Once you have applied for your auto loan at Neighborhood Credit Union, no need to worry about that first payment. We offer up to 120 days of no payments,3 so that means enjoying four months of driving your new car without having to make a payment. It is the perfect time to catch up on other bills, bulk up your savings, or plan ahead for 2022 projects.  
Apply for an Auto Loan Online
Apply for an auto loan at Neighborhood Credit Union from the comfort of wherever you are in less than 10 minutes! If you would rather talk to a loan officer by phone, you can dial 214-748-9393 extension 2601.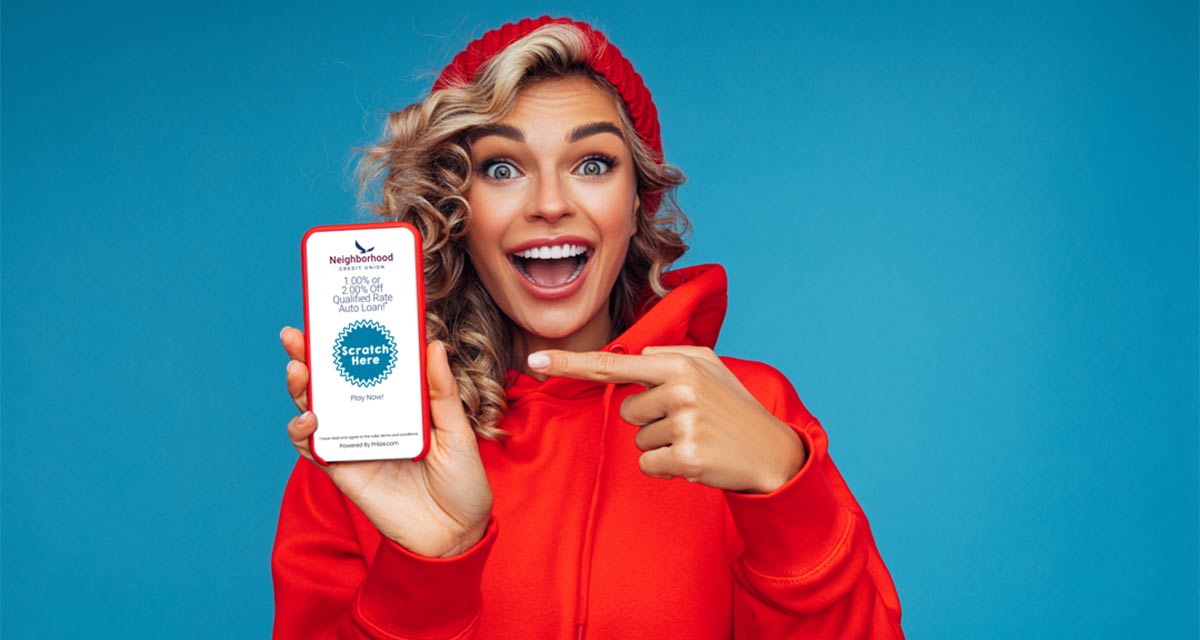 1Must be 18 or older and a member of Neighborhood Credit Union for prize fulfillment. Credit application and approval required. Vehicles currently financed with Neighborhood Credit Union not eligible for offer. Restrictions apply. Full Terms and Conditions. Promotion details. Promotion ends February 28, 2022.  
Terms and Conditions link = https://www.myncu.com/win#rules
2 Rates effective March 22, 2021. Must be 18 years or older and a member of Neighborhood Credit Union. Credit application and approval required. Rates subject to change. Equal Opportunity Lender. 
3 Interest begins accruing the day the loan is funded. Offer valid for a limited time only. Does not apply to vehicles currently financed through Neighborhood Credit Union.
Catch Up on More News
Explore News & Events for more updates on what's happening in your community and at the credit union.
Who We Are 
As an active part of the community for 93 years, Neighborhood Credit Union is a not-for-profit financial organization serving the state of Texas with branch locations in Collin, Dallas, Denton, Ellis, and Tarrant counties. With assets topping $1 billion, Neighborhood Credit Union has a continuously growing membership of over 60,000. For more information, call (214) 748-9393 or visit our homepage.