Play for a Chance to Win at Neighborhood CU
Published June 15, 2021
Last fall, Neighborhood Credit Union kicked off a new promotion:
scratch for a chance to win
a 0% APR car loan. It was such a hit that the credit union decided to bring it back for the summer! Members and non-members can play an interactive game on their phone or computer and "scratch" for a chance to win the grand prize. The promotion is open to new auto loans and those looking to refinance their current auto loan from another financial institution. Now until July 31, 2021, individuals have the opportunity to win 1.00% APR off your qualified rate or the grand prize of 0% APR for 60 months.
1 
How the Game Works
To play, all you need is a phone, tablet, or computer. Follow the myncu.com/win link and select the "Click to Play" button. You'll be directed to the game and all that is left to do is scratch away to see if you have won! You can continue by clicking the "apply now" button and complete your auto loan application with the applied discount. 
Can Non-Members Play?  
Those who are currently not a member of Neighborhood Credit Union can also play! When you finance a new auto loan or decide to refinance your auto loan from another financial institution, you then become a member of Neighborhood Credit Union. New members also enjoy a Prize Savings Account that maintains a balance of at least $25. As a member-owned credit union, the Prize Savings account is considered your ownership share in the credit union that allows you to be a part of Neighborhood Credit Unions' operations and benefits.    
Other Promotions at Neighborhood Credit Union
As we inch closer to the summer months and with more places opening back up, we know that you have probably spent more than enough time at home and are looking for something to do. Now until July 31 of this year, you can apply for a vacation personal loan at Neighborhood Credit Union and enjoy a fixed rate of 6.49% APR for 12 months.
2
For more information,
click here.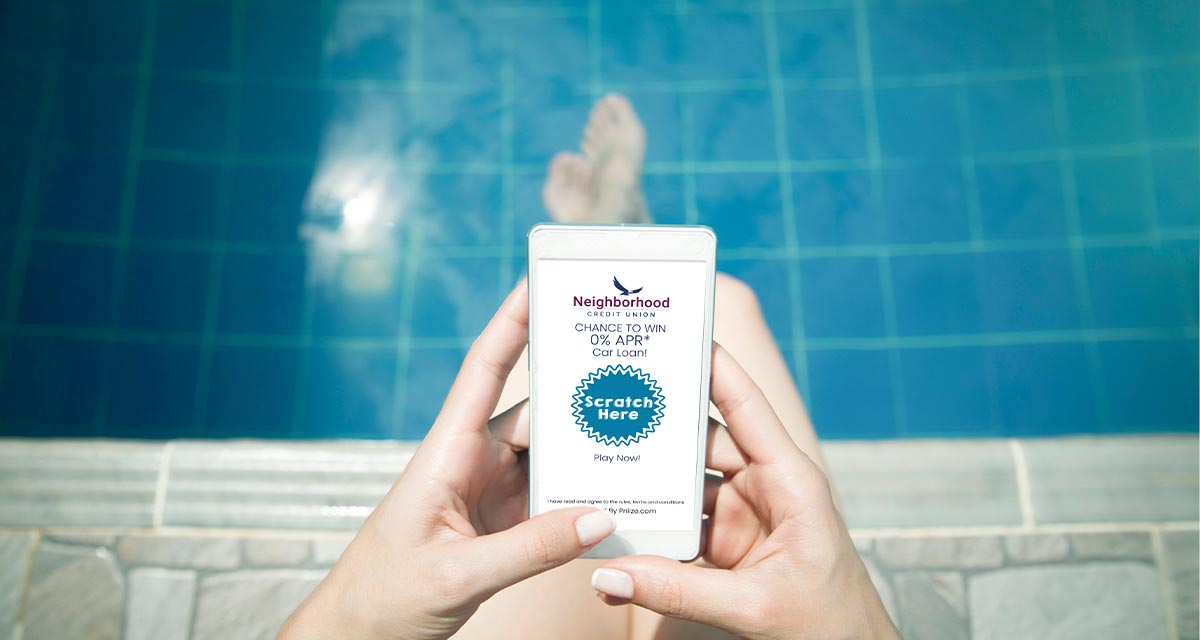 ---
1. Must be 18 years of age or older and an existing member or become a member of Neighborhood CU to play, claim and redeem any prize. Players must abide by rules, conditions, and expiration dates set by Neighborhood CU. Existing member accounts with Neighborhood CU must be in good standing to participate and win prizes. Neighborhood CU reserves the right to withhold awarding prizes to those whose accounts are closed, charged off or not in good standing at time of participation. To join Neighborhood CU, you must meet the membership requirements, including purchase and maintenance of the minimum required share(s) ("membership share") of $25 as set forth in Neighborhood Credit Union's bylaws. You authorize us to check your account, credit and employment history, and obtain reports from third parties, including credit reporting agencies, to verify your eligibility for the accounts and services you request. Game ends on July 31, 2021 at 11:59pm.
2. Credit application and approval required to participate. Offer valid on new to Neighborhood CU car loans including new cars, used cars and refinancing a car loan with Neighborhood CU that is currently financed with another lender. Car loans currently financed with Neighborhood CU are not eligible. Rates are subject to change. Valid for auto loans with a maximum value of $75,000 and a maximum term of 60 months. Prize offer valid on applications received from June 15, 2021 to midnight on July 31, 2021.
3. Entries – Neighborhood CU reserves the right to promote game play to Neighborhood CU members or to potential members through acquisition advertising by using various digital channels, including but not limited to email, website, blog, social media (Twitter, Instagram, Facebook, Google Business, Next, Yelp, or other similar media channels) and newsletter. Multiple scratch off opportunities may be presented, only one entry allowed per person. Entries already submitted cannot be changed.
4. Prize Claim: A prize claim is defined as a submitted car loan application with corresponding scratch-off offer. Once submitted, prize claimed cannot be changed.
5. Prizes – One prize win per person. Prizes cannot be combined. One member will receive the Grand Prize: a car loan with a maximum value of $75,000 or less at 0% APR for a maximum of 60 months. Grand Prize winner is still responsible for making timely payments on the loan principal. Failure to make payments would lead Neighborhood CU to start collections process. All other participants will either win 1% off their Qualified Rate or $100 Cash Back once a car loan is finalized. Prizes cannot be combined. Excluding Grand Prize Winner, final rate cannot be lower than 1.99% or lowest advertised car loan rate. If the Grand Prize isn't won or claimed by July 31, 2021, the participants who fully funded an approved car loan with Neighborhood CU will be entered into a random drawing for the Grand Prize. If the Grand Prize is awarded by drawing, member will win 0% APR, and will be required to sign a subsequent action form in order to refinance their auto loan at 0% APR. All drawings shall be conducted by the independent auditing firm of Credit Union Resources, Inc. to ensure fairness and compliance with all applicable rules and regulations.
6. Odds – Actual odds of winning depend on the number of participants.
7. Decisions: By entering, entrants agree to abide by and be bound by these Official Rules, and to accept the decisions of Neighborhood CU as final. Entrants also agree to hold Neighborhood CU and each of its officers, directors, employees, members and representatives, and agents harmless from any liability arising from participation, or the acceptance of a prize. Neighborhood CU and each of its officers, directors, employees, members, and representatives, and agents are not responsible for any negligence, claims, liability, injury, property loss, or other damages of entrants and/or winners arising from, or in connection with, acceptance of prizes awarded or participation. Neighborhood CU reserves the right to disqualify entrants who fail to follow these Official Rules or who make any misrepresentations relative to the prize redemption.
8. Taxes – Winners are solely responsible for any applicable federal, state and local taxes and any expenses related to prize.
9. Miscellaneous – Participation void where prohibited. Neighborhood CU may substitute prizes of equivalent value, amend the rules or discontinue the game at any time. Neighborhood CU disclaims any responsibility to notify participants of any aspect related to the conduct of this game. Internet Explorer should not be used and may cause issues if used to participate in game. Recommended browser is Google Chrome. Neighborhood CU is not responsible for game play issues caused by equipment or acts of God. Anyone who knowingly and with the intent to defraud or manipulate winnings of this scratch-off game in any
way will have their prize claim(s) disqualified and denied at the discretion of Neighborhood CU. Neighborhood CU reserves the right to disqualify any individual found, in its sole opinion, to be tampering with the operation of this game; to be acting in violation of these Rules, Terms, and Conditions or to be acting in an unsportsmanlike manner or with the intent to disrupt the regular operation of the game. Any use of robotic, automatic, utilizing incognito browser viewing, cookies disabled, Internet browser, macro, programmed, third party, or like methods to participate in the game will void any attempted participation effected by such methods disqualification of the individual utilizing the same. Neighborhood CU reserves the right to cancel, suspend and modify the Promotion, or any part of it, if any fraud, technical failures or any other factor beyond Neighborhood CU's reasonable control impairs the integrity or proper functioning of the game, as determined by Neighborhood CU in its sole discretion. In such an event, Neighborhood CU reserves the right to award the prize(s) at random from among the eligible entries received up to the impairment time.
2
6.49% APR based on credit approval. Loan application and credit approval required for loan. Must be 18 years or older to participate. Loan has a 12 month term. Interest begins accruing the day the loan is funded. Offer for a limited time only and expires 07/31/2021 at midnight. Promo code VACAY2021 must be input on application. Must be a member of Neighborhood Credit Union.
Catch Up on More News
Explore News & Events for more updates on what's happening in your community and at the credit union.
Who We Are 
As an active part of the community for 92 years, Neighborhood Credit Union is a not-for-profit financial organization serving the state of Texas with branch locations in Collin, Dallas, Denton, Ellis, and Tarrant counties. With assets topping $1 billion, Neighborhood Credit Union has a continuously growing membership of over 60,000. For more information, call (214) 748-9393 or visit our homepage.