7 Gift Ideas for Under $50
Published December 4, 2018
By Jordan Ottaway 
If you're in need of a gift idea for your tech-savvy family and friends, then you've come to the right place. There are plenty of great gift ideas that don't have to break the bank. To help get you started, here are 7 ideas that are all $50 and under.
CanaKit Raspberry Pi Model B+—$48.99
The first Raspberry Pi came out six years ago and the Model B+ is faster and more powerful than its predecessors. The Raspberry Pi is essentially a credit-card-sized computer that holds a quad-core processor, dual-band wireless LAN, and Bluetooth. What makes it better is that you don't need to be a programmer to use it. It's perfect if you want to tinker with different projects and you can even make your own retro arcade.
Amazon Echo Dot—$29.99
We had to include the new Echo Dot. With the upgraded speaker, this gift is ideal for someone wanting to buy their very first Alexa speaker. Regardless if you have someone on your list that's a Echo Dot newbie or if your buying to upgrade from an older model, this is great option for them.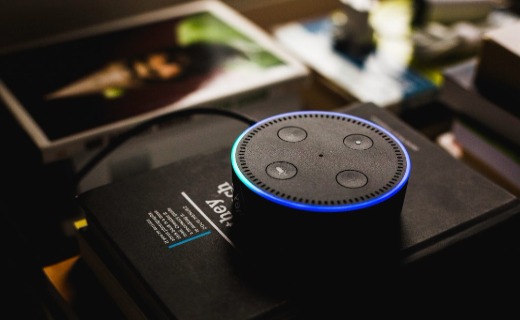 Portable Battery—$49.99
It's never a good feeling to be on the go and have your phone battery run out. Having a portable battery like an Anker PowerCore 20100mAH can really come in handy if you're going to be using your phone more than usual. (As you go gift shopping, perhaps?) Small enough to fit in your pocket, it can charge an iPhone around 5 times and an Android phone around 4. So long are the days of worrying if your phone is going to make it through the day.
Handbag Illuminator—$35.95
Even your most organized bag can seem like a black hole when your trying to find that one thing that keeps evading your reach. This rechargeable, automatic light will help make everything easier. It fits perfectly in your handbag and turns on at the touch or approach of your hand. After you've found what you need, it will automatically turn off to conserve battery life. Extra perk: you can even give your phone a little power boost with the light's charging port.
Cable Organizer—$19.99
If you have a large amount of computer, phone, and or camera accessories, having somewhere to put all your cables in a nice tidy package can help you immensely. Being organized while you're traveling or just wanting to find a place to store it all can save you loads of time. Coming in at a weight of 3.2 ounces, this BAGSMART Travel Organizer can help make traveling with your computer, camera, and phone gear much easier.
Games of Phones—$20.00
It's time to invite your phone to the party. Your phone goes with you everywhere and you use it for everything, so why not use it to play this fun game. Game of Phone lets you turn your phone into the subject of a scavenger hunt for you and your friends. Draw a prompt card and see who can use their phones to create an emoji masterpiece, show off the last photo you took, or find the weirdest Google Image result for your name. It's perfect party game.
Touchscreen Gloves—$32.00
This time of year the cold, gloves, and phones don't really mix well. Normally you're having to take your glove off, send a quick email or text, and put it back on before your hand turns to ice. While living in Texas we don't have to deal with this too often, someone on your gift list might benefit from these touchscreen gloves. When the temperatures get cold, these can be your best friends.
(We were not compensated by any brands mentioned in the article. These are just our personal recommendations.)

Jordan Ottaway contributed to the Neighborhood Credit Union blog from 2016 - 2019.